Kinesiology Department
Athletic Training
Serving others and improving lives through health care.
Hope College offers one of the finest athletic training programs in the nation, with courses and clinical experience accredited by the Commission on Accreditation of Athletic Training Education (CAATE). The program has chosen to voluntarily withdraw its CAATE Accreditation effective following the 2020–2021 academic year.*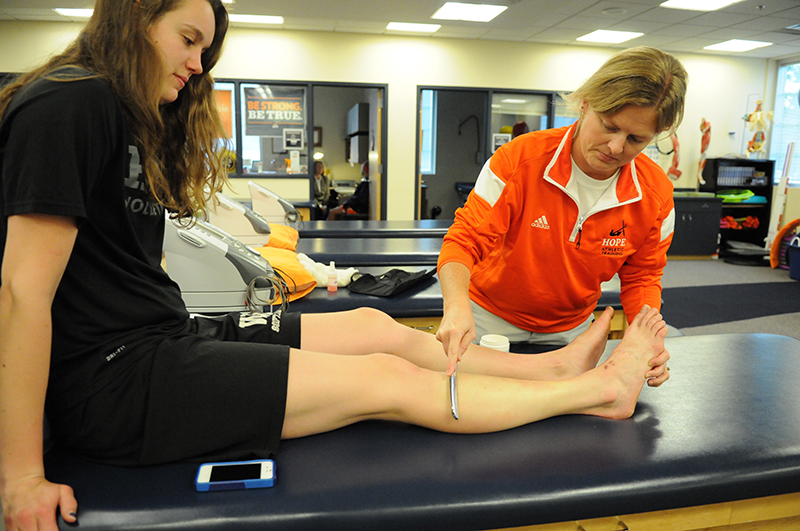 Hope has many features that distinguish its athletic training program from others:
Clinical involvement from day one, based on freshmen admission
State of the art facilities, equipment, modalities and supplies
Mentor program enabling peer relationship development
Faculty have a dual clinical and academic appointment
Faculty's professional experience includes clinics, high school, collegiate and professional sports
Student-faculty collaborative research opportunities
*NOTE TO PROSPECTIVE STUDENTS INTERESTED IN ATHLETIC TRAINING:
New students are no longer being admitted directly into the program, but students interested in careers in Athletic Training should consult with the Kinesiology Department regarding options for studying within the Exercise Science curriculum as a preparatory degree for graduate level professional programs in Athletic Training. If you are interested, please contact Kirk Brumels for more information.
EDUCATIONAL PROGRAM INFORMATION

Hope is a CAATE-accredited program, which after completing the curriculum requirements, allows our students to sit for the BOC exam and graduate with a professional degree, ready for the workplace.

Our objective is to graduate our students in no less than four years to be successful on the BOC exam upon completion of the professional program, gain entrance into a graduate school with a related degree and/or become employed as an AT.



Athletic Training Major Course Sequence
Athletic Training Education Program Retention Policy
BOC Standards of Professional Practice
Guide for BOC Exam Candidates
NATA Code of Ethics
Technical Standards

CLINICAL PROGRAM INFORMATION

All athletic training majors complete clinical internships totaling at least 1,200 hours under the direct supervision of a certified athletic trainer. Although most clinical experience will come from working with Hope student-athletes in our four athletic training rooms, you will also serve rotations in each of the following settings:

A local high school

A local hospital-based sports medicine clinic

Our team physician's family medical practice

A local orthopedic physician's office (observing an athletic trainer and the physicians)

POLICIES AND FORMS

Clinical Experience Expectations and Assessment Compilation
Emergency Action Plan
Infection Control Procedures
Medication and OTC Dispensing Policy
Risk & Responsibility Release Form for AT Student Travel

ON-CAMPUS FACILITIES

Our athletic trainers work out of four athletic training rooms located in the Richard and Helen DeVos Fieldhouse, Lugers Fieldhouse, VanAndel Soccer Stadium, and the Dow Center. The athletic training room in the DeVos Fieldhouse serves as the

central site for athletic health care on campus. The 3,500 sq. ft. facility is adjacent to the weight training center and includes a SwimEx hydrotherapy pool, extensive rehabilitation space, offices for the athletic training faculty, a taping and bandaging area, and a large treatment center.

OFF-CAMPUS FACILITIES

Athletic training students will be well-rounded by completing rotations in a variety of settings under the supervision of local clinical instructors. Below is a listing of the off-campus facilities we partner with.

Generally students who are sophomores and higher will be assigned to Zeeland High School at either the West or East campus. If assigned at the West Campus, Diana Albers will be the preceptor and at the East Campus, it will be Jason Burgess. Both are eager to have Hope athletic training students on board at the high school level. Zeeland High School athletic trainers are hired by Holland Hospital and a formal orientation session for the hospital must occur prior to the start date at the high schools. Students who are in their junior year and above, will be assigned to either Excel-R-ation with Sandi Karafa, Lakewood Family Medicine with Dr. Patrick Hulst or at Shoreline Orthopaedics with KayLynn Albers.

OBSERVATION SITE PLANNING FORMS

EXCEL Clinical Rotation Planning Form
LFM Clinical Rotation Planning Form
SHORELINE Clinical Rotation Planning Form
ZHS Clinical Rotation Planning Form

BOARD OF CERTIFICATION PASSING RATES

Athletic training students who have completed the requirements for graduation from the Hope College athletic training program upon satisfactorally meeting the academic and clinical standards set forth by the Commission on Accreditation of Athletic Training Education (CAATE) are eligible to challenge the national certification exam for ATs, known as the Board of Certification (BOC) Exam.

In 2014 — 8 graduates of the Hope College AT Program were BOC exam candidates with eight passing on their first attempt
In 2015 — 5 graduates of the Hope College AT Program were BOC exam candidates with five passing on their first attempt
In 2016 - 9 graduates of the Hope College AT Program were BOC exam candidates with nine passing on their first attempt
In 2017 - 6 graduates of the Hope College AT Program were BOC exam candidates with six passing on their first attempt

Three-Year Aggregate Data

20 students graduated and sat for the BOC Exam in the year of their graduation
20 of 20 graduates (100%) of the Hope College AT program passed the BOC exam on the first attempt
20 of 20 graduates (100%) of the Hope College AT program passed regardless of the number of attempts
Hope College AT program students continue to do well on the BOC examination
Interested in Athletic Training?
Contact Kirk Brumels for more information.
Kinesiology Department
DeVos Fieldhouse222 Fairbanks AvenueHolland, MI 49423
workP. 616-395-7070
brumels@hope.edu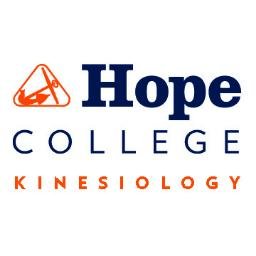 Kinesiology Tweets@HopeKinesiology
Accredited by CAATE