Alumni and Family Engagement
Student Ambassadors
Student Ambassadors provide a strong connection between students and alumni, and help graduating students transition to alumni status. The group hosts networking events and programs, as well as career mentoring and social opportunities.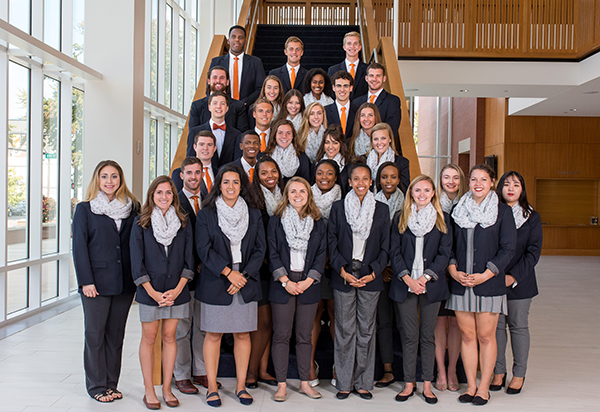 The Hope College Student Ambassadors includes 30+ sophomores, juniors and seniors. The group is selected each spring through a competitive application process, and meets twice monthly. It is co-advised by staff representatives from Alumni Relations and Student Development.
Group members connect with alumni at a variety of events, such as Homecoming and Alumni Weekend, and are responsible for unique programming on campus throughout the year.
In turn, these students benefit from valuable leadership experience, unique networking opportunities and professional and personal development training. The Student Ambassadors participate in both the Gallup StrengthsFinder and the Myers Briggs Type Indicator, and take part in leadership development through group readings, guest speakers, and holistic training to guide each individual through the process of identity formation and vocational discernment.
For more information about the Hope College Student Ambassadors, or how to become a member, please contact alumni@hope.edu. Recruiting takes place in the spring semester and meetings take place throughout the school year.
Meet the 2016–17 Student Ambassadors:
Josh Augustine '17

Matt Baxter '16

Mikaila Bisson '17

Natalie Brown '17

Victoria Chapman '18

Yordanos Dessie '19

Ariana Destiney '19

Joseph Fifer '18

Kyle Funk '18

Catherine Hagenbush '17

John Hunger '18

Ryan Johnson '17

Rourke Mullins '18

Kathleen Muloma '19

Alec Nelson '19

Elizabeth Orians '18

Kevin Rukundo '18

Garrett Sims '17

Abigail Smith '17

Abigail Ivy Smith '17

Maya Smith '19

Marissa Solorzano '19

Luke Stehney '19

Curissa Sutherland-Smith '18

Allison Utting '18

Nicole Walsh '18

Isabel Wanyagah '17

Ashley Warner '18

Spencer Westley '17
Want to be involved?

Learn about the numerous opportunities
Alumni and Family Engagement
DeWitt Student Cultural Center141 East 12th StreetFloor 2Holland, MI 49423
workP. 616-395-7250
alumni@hope.edu