Hope College will celebrate its 50-year friendship with Meiji Gakuin University of Japan with multiple events on Tuesday-Wednesday, Nov. 3-4.
The public is invited. Admission is free.
Hope and Meiji Gakuin University have maintained an exchange relationship since 1965. The relationship began with a summer program that brought Meiji Gakuin students to Hope, and has since expanded to include a similar program for Hope students, long-term student study-abroad, faculty exchanges and more.
View all Meiji Gakuin anniversary events on our campus calendar
The activities will begin with an address that will explore the Hope's long ties with Japan, focusing on the college's first Japanese students in the 1870s with a particular emphasis on Kumaji Kimura. The presentation will be by Andy Nakajima, associate professor of Japanese at Hope, on Tuesday, Nov. 3, at 3 p.m. in the Fried-Hemenway Auditorium of the Martha Miller Center for Global Communication.
Immediately afterward, on Tuesday, Nov. 3, at 4 p.m., also in the Fried-Hemenway Auditorium, Margaret Matsumoto will discuss the work of her father, Toru Matsumoto, who was ordained in the Reformed Church in America and had been a member of the Meiji Gakuin University faculty.
The college's Chapel service on Wednesday, Nov. 4, at 10:30 a.m. in Dimnent Memorial Chapel will feature a commemoration of the anniversary. The featured speakers will be Hiroyoshi Udono, president of Meiji Gakuin University, and John C. Knapp, president of Hope College.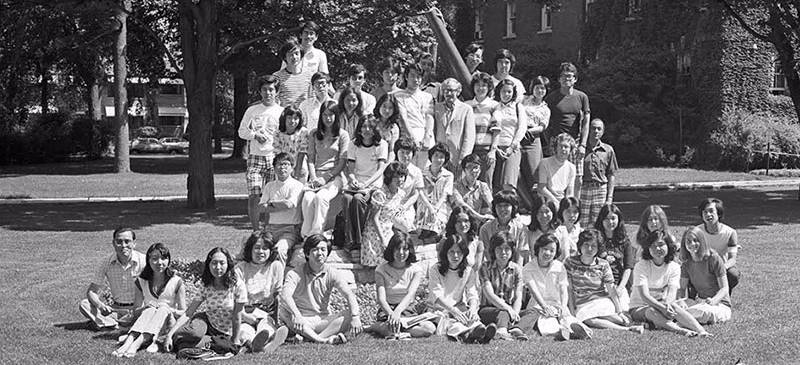 Meiji Gakuin and Hope will reaffirm their ongoing relationship with a formal signing of institutional agreement on Wednesday, Nov. 4, at 4 p.m. on the second floor of the rotunda of the Martha Miller Center for Global Communication.
Meiji Gakuin University is a Christian university with campuses in both Tokyo and Yokohama. Meiji Gakuin traces its origins to the establishment of an English academy in Yokohama in 1863 by American medical missionaries serving through the Presbyterian Church of America.
The initial program that began in 1965 became a bilateral exchange in 1980, with Hope students traveling to Japan through a May Term course. The two institutions added long-term study abroad (a semester or year) in 1989 and a faculty exchange in 1994. Since 2013, Hope has also hosted junior high school students in the summer through a partnership between Meiji Gakuin and Komoro City of Japan, and summer language study and other training for staff members from Meiji Gakuin.
Hope's ties to Japan go back nearly a century more. At one point in the 19th century, as many as 14 students from Japan were studying at the college. The first two Hope graduates from Japan—who comprised one third of the graduating class in 1879—were Kumaji Kimura and Motoichiro Oghimi, who subsequently attended New Brunswick Theological Seminary and returned to Japan to serve as educators and pastors. Kimura was originally from Komoro City, a connection that helped inspire the 2013 junior high program.
The 50-year relationship with Meiji Gakuin University is among multiple important partnerships that Hope has with universitites in Japan, which include Ferris University, Seigakuin University Technos College and Waseda University.
Dimnent Memorial Chapel is located at 277 College Ave., at the corner of College Avenue and 12th Street. The Martha Miller Center for Global Communication is located at 257 Columbia Ave., at the corner of Columbia Avenue and 10th Street.