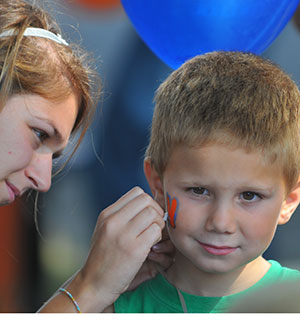 The annual Hope/Holland Community Day began during one major anniversary celebration, and now achieves a milestone of its own as the college marks another.
The 50th annual event, part of the college's year-long sesquicentennial commemoration, will take place on Saturday, Sept. 5, and feature a picnic at Windmill Island Gardens, live music, a family-friendly bicycle ride and multiple home Hope athletic contests.
Community Day celebrates the long-standing relationship between Holland residents and the faculty, students and staff of Hope College. The event debuted in October 1966 as a Community Ox Roast, held in conjunction with the Hope College centennial celebration. Like the first event, which was the idea of former mayor Nelson Bosman, subsequent Community Days have provided an opportunity for Holland and Hope to come together.
"Hope and Holland are not only neighbors but family," said Hope College President John C. Knapp. "The college began as a way to help assure a bright future for the community through education while the first generation of settlers was still creating the city. Both Holland and the college have grown and extended their reach nationally and internationally since then, but that relationship is as important now as it was 150 years ago. Hope is better because of the people of Holland, and it's important to the college to be a positive part of the community."
The college is celebrating its sesquicentennial across the 2015-16 school year. The commemoration anticipates the 150th anniversary of the college's formal chartering by the State of Michigan on May 14, 1866. In addition to Community Day, the sesquicentennial will be a major focus of Hope events such as the groundbreaking ceremony for the Jim and Martie Bultman Student Center on Monday, Aug. 31; Homecoming Weekend in October; Family Weekend in October and November; and Alumni Weekend in April.
Community Day's events will begin with a free family-oriented bicycle ride around the Hope campus, Windmill Island Gardens and other locations in Holland. Sponsored by Velo City Cycles, the ride will begin at the college's Richard and Helen DeVos Fieldhouse at 9 a.m.
The picnic will take place at Windmill Island Gardens from 11 a.m. to 2 p.m., with fare including carved mojo pork loin, hamburgers, hot dogs, chicken tamales, vegetarian enchiladas and black bean burgers. The event will feature live music by Holland's American Legion Band from 11 a.m. to 12:30 p.m. and by Grupo Ayé from 12:30 p.m. to 2 p.m. There will also be prize drawings throughout the picnic.
Highlights at Windmill Island Gardens include the 254-year-old "DeZwaan" windmill; 36 acres of gardens, dikes and canals; the Posthouse museum and shops; and, for children, the antique carousel and new playground. The day's ticket stub will provide admission to the island from 9:30 a.m. to 5 p.m.
In athletic competition, the men's and women's cross country teams will host the Vanderbilt Invitational—an event also marking its 50th anniversary—at 10:30 a.m. at Ridge Point Community Church. Hope College football will host Monmouth College of Monmouth, Illinois, at 1:30 p.m. at Ray and Sue Smith Stadium. Men's soccer will host Illinois Wesleyan University of Bloomington, Illinois, during the Bergsma Memorial Tournament at 7 p.m. at Van Andel Stadium.
Tickets for Community Day cost $9 for regular admission and $5 for children age five to 11, with admission free for children under five. Tickets may be purchased in advance at the Events and Conferences Office located downtown in the Anderson-Werkman Financial Center, which is open weekdays from 9 a.m. to 5 p.m. and can be called at 616-395-7890. Tickets will also be sold on Windmill Island Gardens on the day of the event beginning at 9:30 a.m.
Throughout the day during Community Day, the De Pree Art Center and Gallery will be featuring the exhibition "Dusk to Dusk: Unsettled, Unraveled, Unreal," a collaborative project between De Pree and the Grand Valley State University Art Gallery. The exhibition will open on Friday, Aug. 28, and will continue through Saturday, Oct. 31. The gallery will be open Mondays through Saturdays from 10 a.m. to 5 p.m. and Sundays from 1 p.m. to 5 p.m. Admission to the gallery is free.
In addition, the Hope College Concert Series will feature The Tallest Man on Earth on Saturday, Sept. 5, at 8 p.m. in the Knickerbocker Theatre in downtown Holland. Tickets for the concert are $15 for Hope students, $30 for members of the college's faculty and staff, and $35 for the community, and are available through the Events and Conferences Office.
The Anderson-Werkman Financial Center is located at 100 E. Eighth St., between College and Columbia avenues. The De Pree Art Center is located is located at 160 E. 12th St., facing Columbia Avenue. The DeVos Fieldhouse is located at 222 Fairbanks Ave., between Ninth and 11th streets. The Knickerbocker Theatre is located at 86 E. Eighth St. Ray and Sue Smith Stadium is located at 313 E. Fairbanks Ave., near 13th Street. Ridge Point Community Church is located at 340 104th Ave., on 104th Avenue near 24th Street (Mason Street). Van Andel Stadium is located at 225 Fairbanks Ave., near 11th Street. Windmill Island Gardens are located at 1 Lincoln Ave., north of Seventh Street.
Additional information about Community Day may be obtained by calling the college's Division of Public Affairs and Marketing at 616-395-7860 or online at hope.edu.
In the event of rain, the picnic will be moved inside the DeVos Fieldhouse. If the picnic is moved inside, announcements will be made online at hope.edu and on area radio stations.