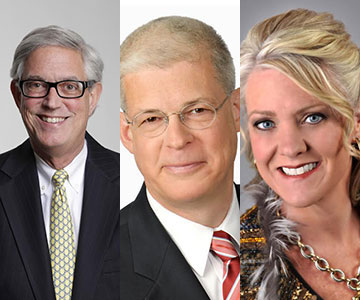 Three new members have been elected to the Hope College Board of Trustees.
Newly elected to serve four-year terms on the board are Douglas R. Conant of Chicago, Illinois; Brian Gibbs of Bad Homburg, Germany; and Margaret (Meg) Miller Willit of Grandville.
The board has also re-elected Mary V. Bauman of Grand Rapids; David Charnin of Greenwich, Connecticut; Nancy DeWitt of Cincinnati, Ohio; J. Lindsey Dood of Grand Rapids; Lisa Granger of Lansing; Monica Newendorp of Pella, Iowa; Dr. A. Paul Schaap of Grosse Pointe Park; and the Rev. Scott VanOostendorp of Zeeland to four-year terms.
Concluding his time on the board, after 16 years of service, is Thomas H. Claus of East Grand Rapids.
Bauman was re-elected to a second four-year term as chairperson, and Dr. David W. Lowry of Holland is continuing to serve as secretary. Mark VanGenderen of Cedarburg, Wisconsin, has been elected to a two-year term as vice-chair, succeeding the Rev. Dr. William R. Boersma, whose tenure on the board is continuing.
Conant is a "New York Times" bestselling author and keynote speaker with more than 35 years of leadership experience at world-class companies. In 2011, he founded ConantLeadership, a growing community of people dedicated to helping improve the quality of leadership in the 21st century. Deeply committed to leadership, he also serves as the chairman of the Kellogg Executive Leadership Institute at Northwestern University, chairman of CECP (The Committee Encouraging Corporate Philanthropy) and as chairman of Avon Products.
From 2001 to 2011, he served as CEO and president of Campbell Soup Company. Before serving as CEO of Campbell Soup, he worked in marketing at General Mills, held leadership positions in marketing and strategy at Kraft, and served as president of the Nabisco Foods Company.
Conant speaks widely to people and organizations on effective and enduring leadership practices for the modern age. He is the co-author with Mette Norgaard of the New York Times bestseller "Touchpoints: Creating Powerful Leadership Connections in the Smallest of Moments." He is a featured blogger on leadership issues at Harvard Business Review online and also writes extensively about leadership on the ConantLeadership Blog and on LinkedIn.
He earned his BA degree from Northwestern University in 1973 and his MBA from the J.L. Kellogg School of Management at Northwestern in 1975. He and his wife, Leigh, have three children, Ben, Tyler and Sarah.
Gibbs has enjoyed long involvement in both international business and international education. He is associate dean at the European Business School of the Universitaet fuer Wirtschaft und Recht for business, economics and law in Wiesbaden, Germany, and was previously a lecturer in the Department of Business, Economics and Management Information Systems at the University of Regensburg, Germany. He worked for more than 20 years in international management consulting with PRTM Management Constants as a partner and country managing director in Germany with a specialization in business and operational strategy and global operations for technology-based companies.
His service on the Board of Trustees follows the conclusion of a six-year term as international representative on the college's Alumni Association Board of Directors, during which time he focused on international alumni engagement and expanding the networks of Hope's international programs in Europe. He has been actively involved in various Hope programs, including 30 years of service in various capacities with the Hope College Vienna Summer School Program (including as program assistant, lecturer in economics and annual guest speaker), as well as with Hope's May Term programs in London and Scotland. He has also been a frequent speaker on Hope's campus.
Gibbs, a Hope Baker Scholar and member of Phi Beta Kappa, graduated in 1984 with majors in business administration, German and international studies. He then taught in Schaerding, Austria, for two years through a Fulbright Scholarship and a further year in Linz, Austria. He returned to the United States to complete a Master of Arts in law and diplomacy at The Fletcher School of Law and Diplomacy at Tufts University, before joining PRTM and locating to Germany, where he has resided since 1990. He has served for many years as a member of the Fletcher School's European Advisory Group.
He and his wife, Barbara, have three children, Anna, Emily and Liam.
Willit is active as a volunteer in West Michigan, with an emphasis on children, the arts and education. She has served on the boards and committees of several non-profit organizations, including the Grand Valley State University Foundation, Grand Rapids Art Museum, Helen DeVos Children's Hospital, Van Andel Institute, Make-A-Wish Michigan, Frederik Meijer Gardens, Grand Rapids Symphony, Grand Rapids Community Foundation and Grand Rapids Children's Museum. She has also served on numerous volunteer and development committees, and has been active in Hope capital campaigns including "Legacies: A Vision of Hope" and "A Greater Hope."
Willit's volunteer leadership has been recognized with multiple awards, including the GVSU Leadership Award, selection as a Make-A-Wish Michigan Wish Ball honoree, Grand Rapids Symphony Bravo Award, West Michigan WYCA Tribute Award "Women of Achievement" and the Grand Rapids Community Foundation Jack Chaille Community Philanthropy Award.
She graduated from Hope in 1986 with a major in communication. Her past career experience includes association management in Chicago, Illinois, public relations with Seyferth and Associates, and special event consulting.
Willit and her husband, Greg, have two sons, Nathan and Andrew.