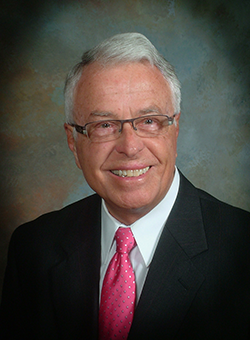 Charles Aschbrenner, who taught at Hope as a member of the music faculty for 53 years, died on Sunday, Sept. 18, 2016. He was 79.
He joined the Hope faculty in 1963, and was a professor of music and chair of the piano area at the college. He retired in 2008 as professor emeritus of music but continued to teach at Hope in retirement.
He lectured and adjudicated in addition to performing both as soloist and collaborative pianist throughout Michigan and the Midwest as well as in Mexico, Portugal, France and Russia. His piano students have entered graduate programs across the country and into careers in teaching, performance, church music, music theater and opera direction worldwide.
He was a certified Dalcroze Eurhythmics instructor, and was intensely interested in the issues of movement, rhythm and physical freedom in performance. He presented lecture-demonstrations across the United States as well as internationally in both Austria and Serbia. His articles on rhythm and movement appeared in the Journal of the Dalcroze Society of America, and his website "Pulse Patterning for Pianists" (pulsepatterning.com) attracted international responses.
In addition to his teaching at Hope, he was the liaison for the Holland Piano Teachers' Forum, the local chapter of the Michigan Music Teachers Association (MMTA). He had served on the state board of the MMTA as membership chair, and served the Music Teachers National Association (MTNA) as collegiate competitions chair and scholarship foundation chair. He had also been involved in the EPT-European Piano Teachers Association, and was a member of the Board of Trustees of the Dalcroze Society of America, a life member of Phi Mu Alpha Sinfonia, a life member of MU Phi Epsilon, and a founding member and longtime supporter of the Hour of Power Eagles Club.
In September 2004 he was named the "Teacher of the Year" by the Holland Piano Teachers' Forum. In October 2007 he was grand marshal of the college's Homecoming parade.
Aschbrenner completed his Bachelor of Music degree at the University of Illinois in 1959, and his Master of Music at Yale University in 1963. He further studied with renowned teachers Nadia Boulanger in France and Adele Marcus in New York City. He also studied oboe with Ray Stills of the Chicago Symphony.
Before coming to Hope, he had an appointment at Stephens College in Columbia, Missouri.
He was born on Nov. 19, 1936, in Oak Park, Illinois, the son of Henry Gustav Aschbrenner and Myrtle Emma Krueger Aschbrenner.
He was preceded in death by his parents and brother, Robert Aschbrenner.
He is survived by his spouse, Chris T. Spencer, who he married on Wednesday, Sept. 7, 2016, after 39 years of companionship; his sister-in-law, Mary Aschbrenner; nephew and nieces, Roger and Katrina Aschbrenner, Debbie and Brad Stanger, and Karen and Ron Johnson; and many cousins.
Funeral services will be held on Friday, Sept. 23, at 11 a.m. in the Concert Hall of the Jack H. Miller Center for Musical Arts, located 221 Columbia Ave., between Ninth and 10th steets. A reception will follow beginning at noon in the lobby. Visitation will be on Thursday, Sept. 22, from 5 p.m. to 8 p.m. at the Langeland-Sterenberg Funeral Home, located at 315 E. 16th St., at the corner of 16th Street and Fairbanks Avenue. In lieu of flowers, please make donations to the Charles Aschbrenner Piano Scholarship at Hope and the Charles Aschbrenner Music Scholarship at the Holland/Zeeland Community Foundation.