Nancy Benda and Anna Garcia formed a potent 1-2 punch atop the lineup for the Hope College women's tennis team.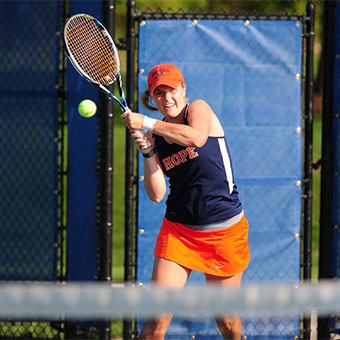 The pair has been recognized for its success on the court for the MIAA champion Flying Dutch as All-Michigan Intercollegiate Athletic Association First-Team honorees. Benda and Garcia were among six players to receive the distinction.
"It goes to show all the hard work they have put into it has paid off," Hope coach Adam Ford said. "You need players like that as captains who really put their teammates first, but when they come to the court, they play with all their heart every single match. It's a well deserved honor for them.
Benda played No. 1 singles and No. 1 doubles for the Flying Dutch. She is ranked ninth in the Intercollegiate Tennis Association Central Region as a singles player.
Benda is 17-6 as a singles player and 19-6 as a doubles player this season, including 7-1 in MIAA matches in both singles and doubles.
Garcia lined up at No. 2 singles and No. 2 doubles for Hope. She is ranked 23rd as a singles player by the ITA.
Garcia is 21-3 as a singles player this season and 18-5 as a doubles player. She was 8-0 in MIAA matches in singles and doubles.
Garcia was also named the MIAA's Sue Little sportsmanship award winner for the second consecutive season.