Hope College's 151st Commencement, celebrating the graduating Class of 2016, will be held on Sunday, May 8, at 3 p.m. at Ray and Sue Smith Stadium.
Baccalaureate will be held earlier in the day, at 9:30 a.m. and 11:30 a.m. in Dimnent Memorial Chapel.
More than 750 graduating seniors will be participating.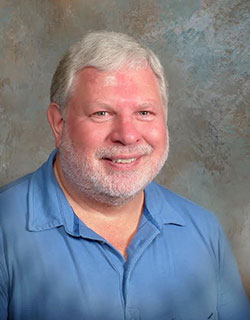 The Commencement speaker will be Dr. Wayne Brouwer, associate professor of religion at Hope, who will present "Remember Whose You Are." The Baccalaureate speaker will be the Rev. Jeffrey S. Allen of Littleton, Colorado, who is senior pastor of Faith Community Church in Littleton and a member of the college's Board of Trustees.
Brouwer has been a member of the Hope faculty since 2000, and received the student-initiated Faculty Appreciation Award during Homecoming in 2014. He is also an adjunct professor of theology and ministry at Western Theological Seminary, has a weekly radio program on local radio station WHTC, is a sought-after speaker and teacher in area churches and conferences, and serves as vice-president for curriculum development at the Church Leadership Center.
Across his career he has pastored congregations in Alberta and Ontario, Canada, and in Michigan, and he was senior pastor of Harderwyk Ministries in Holland immediately prior to joining the faculty. He also served as a missionary teacher in Nigeria, and has taught at several other colleges and seminaries in North America.
Brouwer has written more than 700 articles that have appeared in journals such as Leadership, Christianity Today, Preaching, Interpretation, Calvin Theological Journal and Vital Ministry, and has authored more than a dozen books, including the second revised edition of his best-selling "Covenant Documents: Reading the Bible Again for the First Time" (Cognella), as well as "They All Were Looking for a King…" (CSS), "Being a Believer in a Non-Believing World" (Hendrickson), "Humming Till the Music Returns" (CSS) and "The Literary Development of John 13-17: A Chiastic Reading" (SBL).
He holds a Bachelor of Arts degree from Dordt College, Master of Divinity and Master of Theology degrees from Calvin Theological Seminary, and a Master of Arts degree and doctorate from McMaster University.
He and his wife, Brenda, have three daughters: Kristyn, Kimberly and Kaitlyn.
Allen, who is a 1985 Hope graduate, has been with Faith Community Church in Littleton since 2005. He has been on the college's Board of Trustees since 2012, serving a four-year term that will conclude this summer.
He is engaged with promoting discipleship both in his community and beyond. He is a certified disciple-making coach and Learning Community leader with 3DM, a global initiative to equip pastors and laypeople to serve as missional disciples, and serves as the emerging 3DM Hub leader in the Denver area. Working in partnership with the Baltic Pastoral Institute, in April he shared 3DM disciple-making resources and tools with pastors in Riga, Latvia. His book "A small church on a Big Mission," on developing a culture of discipleship and mission in smaller congregations, is forthcoming from 3DM Publishing this fall. He also co-leads the Together in Mission / Front Range (CRC/RCA) initiative with a mission to "mobilize a multiplication movement of disciple-making missional communities and churches along the Front Range" in Colorado.
Immediately before coming to Littleton, he was on the staff of Trinity Reformed Church in Holland while also pursuing his Master of Divinity degree at Western Theological Seminary. Prior to entering ministry, he had spent nearly two decades in sales and marketing and training, with companies including Nancy Skinner & Associates Inc., Bil Mar Foods/Sara Lee and Tyson Foods.
Allen majored in business administration and minored in economics at Hope. His co-curricular activities as a student included the Baker Scholars program, Fellowship of Christian Athletes, varsity football and track, intramurals, the College Chorus and Chapel Choir, the Anchor student newspaper and the college's chapter of the national Mortar Board honorary society. He was the 1985 recipient of the Otto van der Velde All-Campus Award.
He and his wife, Elyse, who graduated from Hope in 1986, have three children, Sandy, James and Kristin.
In the event of rain, Commencement will be held at the Richard and Helen DeVos Fieldhouse. Admission to Baccalaureate, and to Commencement if indoors, is by ticket only.