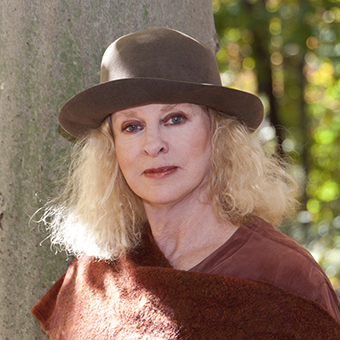 Dr. Linda Patterson Miller of Penn State Abington, a 1968 Hope College graduate who has conducted extensive research on Ernest Hemingway, will deliver two lectures at Hope about the famous author on Thursday, Oct. 12.
She will present the address "Ernest Hemingway and the Lost Generation" at 3:30 p.m. in the Fried-Hemenway Auditorium of the Martha Miller Center for Global Communication as Hope's 2017 Clarence De Graaf Memorial Lecture. She will also speak earlier in the afternoon, discussing "Hemingway's Women in Fiction and Reality" at 1:30 p.m. in room B03 of the college's Anderson-Werkman Financial Center as a guest lecturer in an English course, "Hemingway in Fiction and Film," taught by Dr. Stephen Hemenway and informally referred to as "Hemenway on Hemingway."
The public is invited to both talks. Admission is free.
Miller is the Distinguished Professor of English at Penn State Abington, where she has taught American literature since 1984, earning teaching awards including the Atherton Award for Excellence in Teaching. She publishes in all areas of American studies, but her specialty is early 20th-century American literature and art.
She has long served as a Board member of the Ernest Hemingway Foundation, and she chairs the Editorial Advisory Board for "The Cambridge Edition of the Letters of Ernest Hemingway," published as a multi-volume series by Cambridge University Press. Miller wrote the Foreword for Volume 1 (2011).
Miller's articles on American writers have appeared in such journals as Mosaic, Renascence, American Transcendental Quarterly, Journal of Modern Literature, North Dakota Quarterly, Studies in American Fiction, The Mailer Review, The F. Scott Fitzgerald Review and The Hemingway Review, and in several edited book collections. Miller's books include (with Randall M. Miller) "The Book of American Diaries" (Avon, 1995) and "Letters from the Lost Generation: Gerald and Sara Murphy and Friends" (Rutgers University Press, 1991; paper 1993). "Letters from the Lost Generation," which reexamines the personal and literary relationships between F. Scott Fitzgerald, Ernest Hemingway, John Dos Passos and Archibald MacLeish, among others, was published in an expanded edition (University Press of Florida, 2002). She is presently completing another book on the American expatriate artists in France ("The Summer of '26"), and her "Reading Hemingway: In Our Time" (Kent State University Press) is forthcoming.
Miller has lectured nationally and internationally on modernist art as it relates to American literature and art, and she is a popular speaker and book discussion leader for the Pennsylvania Humanities Council and the National Endowment for the Humanities. She served as guest scholar for C-Span's two-hour show on Hemingway, aired live from Key West, Florida, as part of C-Span's ongoing series "American Writers: A Journey Through History," and is a scholar featured in the documentary "Young Hemingway & His Enduring Eden," about Hemingway's summers in Northern Michigan as a boy and young man. She has served as a scholarly consultant on expatriate American writers and artists for American Playhouse, PBS, and for a special exhibition ("Making It New: The Art and Style of Sara and Gerald Murphy") at Williams College Museum of Art in 2007 followed by a selected national tour, including Yale University and The Dallas Museum of Art in 2008.
Miller has been a Danforth Foundation Associate as well as a Lilly Foundation Post-Doctoral Fellow. She was selected as the Penn State Humanities Laureate for 2011-12.
In addition to her degree from Hope, she holds an M.A. from The Ohio State University and a Ph.D. from the University of Delaware.
The Clarence De Graaf Lectureship was established in 1988 by the family of Dr. Clarence De Graaf in memory of his service on the faculty of Hope College. De Graaf, who died in 1986, taught in the department of English for 44 years, from 1928 until his retirement in 1972, and served as department chair for 25 of those years.
The Anderson-Werkman Financial Center is located at 100 E. Eighth St., between College and Columbia avenues. The Martha Miller Center for Global Communication is located at 257 Columbia Ave., at the corner of Columbia Avenue and 10th Street.