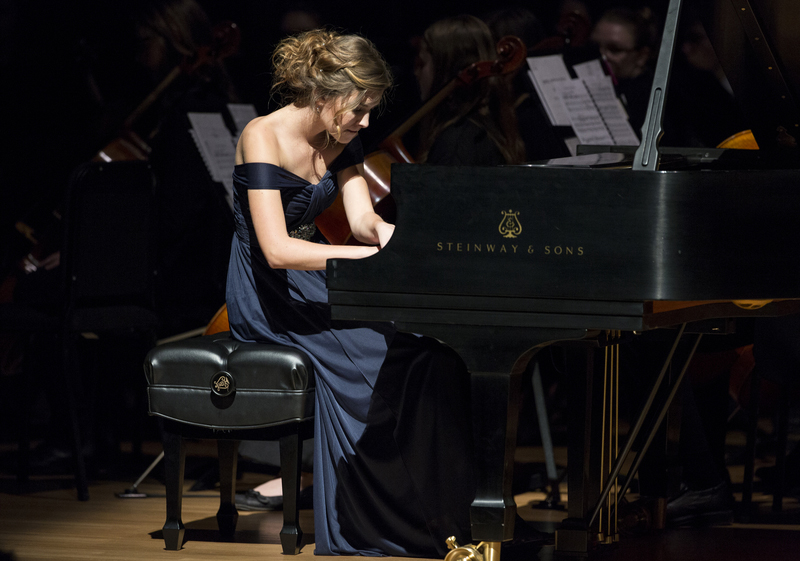 Pianist Kennadi Hawes, a Hope College freshman from Ephrata, Washington, has received second prize in the White Lake Young Artist Solo Competition held on Saturday, April 22.
She was among 11 finalists of all instruments from colleges and universities across Michigan. In addition to receiving cash awards, Hawes and the first- and third-place winners will be featured performers during this year's White Lake Chamber Music Festival, taking place August 3-13 throughout the White Lake area of Montague and Whitehall.
Hawes is a student of Dr. Andrew Le, associate professor of music at Hope. Among other performances as a pianist at Hope across the current school year, she was a soloist during the annual all-department Musical Showcase concert, a featured performer on the monthly Brown Bag Concert Series, and one of the Hope Distinguished Artist Award recipients highlighted during the fall music scholarship recital. Her activities at the college have also included the Chapel Choir and the Women's Chorus.
Sponsored by the White Lake Chamber Music Festival, the Young Artist Solo Competition is open to vocalists and piano, brass, woodwind and string instrumentalists who are under 25 years of age and in college or high school. The finalists are selected to perform based on recordings submitted for the event's preliminary round, competing for first-, second- and third-place prizes of $500, $300 and $200 respectively as well as the opportunity to perform during the summer festival.