Julie Otsuka, whose book "When the Emperor Was Divine" is the focus of the community-wide Big Read Holland Area this year, will deliver the program's keynote address on Thursday, Nov. 9, at 7 p.m. at Hope College in Dimnent Memorial Chapel.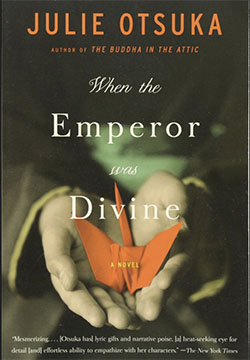 The public is invited. Admission is free.
Co-sponsors of the event include Herrick District Library, the college's Jack Ridl Visiting Writers Series and the Japan Foundation of New York.
"When the Emperor Was Divine" transports readers to 1942, as it tells the story of Japanese-American internment from five points of view. The NEA's website for the Big Read says that the book "not only invites readers to consider the troubling moral and civic questions that emerge from this period in American history but also offers a tale that is both incredibly poignant and fully human."
Published in 2002 and translated into 11 languages, the book is based on Otsuka's own family history: her grandfather was arrested by the FBI as a suspected spy for Japan the day after Pearl Harbor was bombed, and her mother, uncle and grandmother spent three years in an internment camp in Topaz, Utah. The New York Times called it "a resonant and beautifully nuanced achievement," and USA Today described it as "A gem of a book and one of the most vivid history lessons you'll ever learn."
Otsuka was born and raised in California. After studying art as an undergraduate at Yale University, she pursued a career as a painter for several years before turning to fiction writing at age 30. She received her MFA from Columbia. She has received the PEN/Faulkner Award, the Asian American Literary Award, the American Library Association Alex Award, France's Prix Femina Étranger, an Arts and Letters Award in Literature from the American Academy of Arts and Letters, and a Guggenheim Fellowship, and was a finalist for the National Book Award, the Los Angeles Times Book Prize, and The International IMPAC Dublin Literary Award.
Her second novel, "The Buddha in the Attic," is about a group of young Japanese "picture brides" who sailed to America in the early 1900s to become the wives of men they had never met and knew only by their photographs. Published in 2011, the book has been translated into 22 languages.
Otsuka's fiction has been published in Granta, Harper's, 100 Years of The Best American Short Stories, The Best American Short Stories 2012 and The Best American Nonrequired Reading 2012, and has been read aloud on PRI's "Selected Shorts" and BBC Radio 4's "Book at Bedtime."
The Big Read initiative is designed to revitalize the role of reading in American culture by exposing citizens to great works of literature and encouraging them to read for pleasure. Hope is one of only 77 non-profit organizations nationwide to receive a grant to host a "Big Read" project between September 2017 and June 2018.
The Big Read Holland Area is directed by Dr. Deborah Van Duinen, associate professor of English education at Hope. The program began in 2014 with "To Kill a Mockingbird," continuing with "The Things They Carried" in 2015 and "Brother, I'm Dying" in 2016. There were 10,000 participants in last year's program.
Area partners with the college include Herrick District Library, Future PREP'd Ottawa Area Intermediate School District, Howard Miller Public Library, Western Theological Seminary, Holland Museum, cultureWorks, Ready for School, Holland Area Arts Council and Saugatuck Center for the Arts. Schools participating this year include Black River Public School, Hamilton Community Schools, Holland Christian Schools, Holland Public Schools, Saugatuck Public Schools, West Ottawa Public Schools and Zeeland Public Schools.
More information about the Big Read Holland Area events, which are running Nov. 1-22, and the book is available at hope.edu/bigread
More information about the Jack Ridl Visiting Writers Series.
Dimnent Memorial Chapel is located at 277 College Ave., at the corner of College Avenue and 12th Street.