Classical guitarist Berta Rojas will perform at Hope College on Thursday, Sept. 21, at 7:30 p.m. in the John and Dede Howard Recital Hall of the Jack H. Miller Center for Musical Arts.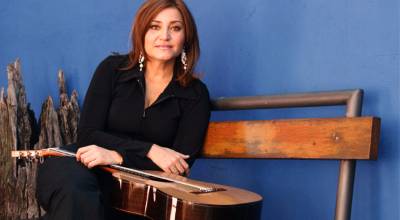 Renowned for her flawless technique and innate musicality, the three-time Latin Grammy nominee ranks among today's foremost classical guitarists. She has been praised as a "guitarist extraordinaire" by Washington Post and as an "ambassador of the classical guitar" by Classical Guitar Magazine. Additional acclaim that she has received ranges from recognition by the newspaper El Pais in 1991 for introducing "a new dimension in the emotional reaches of the instrument," to being deemed one of the most influential women in the Hispanic World by the news agency EFE in 2014.
Born in Paraguay, Rojas began her formal education in classical guitar at age 10 under the instruction of Felipe Sosa and Violeta Mestral. She then moved to Uruguay to study under Abel Carlevaro, and went on to earn a Bachelor of Music degree from the Escuela Universitaria de Musica under Eduardo Fernandez and Mario Paysee. Her love for her music led her to the Peabody Institute, where she earned her Master of Music degree under Ray Chester and Julian Grey.
Rojas was the artistic director of all three editions of the Ibero-American Guitar Festival at the Smithsonian Museum in Washington, D.C., and co-founded the Beatty Music Scholarship Competition for Classical Guitar youth. She also created the first online classical guitar competition, the Barrios World Wide Web Competition, in 2009.
She has performed around the world, including throughout the United States as well as in Spain, Belgium, Mexico, China and multiple countries in South America. She has been featured in major venues such as the Weill Recital Hall of Carnegie Hall and the Frederick P. Rose Hall of Jazz at Lincoln Center in New York; London's South Bank Centre; the Kennedy Center in Washington, D.C.; the National Concert Hall in Dublin, where she performed as a soloist with the Irish Radio and Television Orchestra; and the Flagley Studio 4 in Brussels, where she performed with the Brussels Philharmonic Orchestra for Belgian National Television.
Her numerous honors include being named a Fellow of the Americas by the Kennedy Center for the Performing Arts for her artistic excellence; awards from Paraguay's Chamber of Senate and Chamber of Deputies; and — earlier this year — the National Order of Merit "Don Jose Falcon" from Paraguay's Ministry of Foreign Affairs. In 2016, she received honorary degrees from both the University of Encarnación - UNAE and the American University, Asunción in Paraguay.
Individual tickets for the concert are $10 for regular admission, $7 for senior citizens and Hope faculty and staff, and $5 for students 18 and under. Tickets are available online at hope.edu/tickets as well as at the ticket office in the Events and Conferences Office located downtown in the Anderson-Werkman Financial Center (100 E. Eighth St.). The ticket office is open weekdays from 9 a.m. to 5 p.m. and can be called at (616) 395-7890.