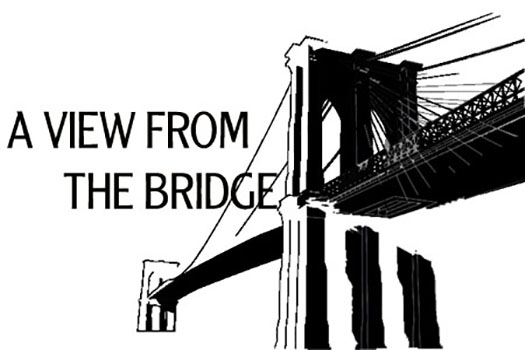 With timely themes concerning family, immigration and the American Dream, Hope Summer Repertory Theatre's production of Arthur Miller's classic drama "A View from the Bridge" opens on Friday, July 21, and continues through Thursday, Aug. 10, at Hope College in the DeWitt Center main theatre.
"A View from the Bridge" follows the story of an Italian-American family that welcomes two undocumented immigrants into their home. Eddie Carbone (Steve Cardamone), his wife Beatrice (Susan Ericksen), and their orphaned niece Catherine (Lea Sevola), host two of Beatrice's nephews, Rodolfo (Skye Edwards) and Marco (Mischa Aravena), who travel from Italy to Brooklyn in search of the American Dream.
Eddie, a Brooklyn longshoreman, is obsessed with his 17-year-old niece, Catherine. When Catherine falls in love with Rodolfo, Eddie's jealousy erupts in a rage that consumes him, his family and his world.
"A View from the Bridge" made its Broadway debut in 1956 and was revived on Broadway in 1983, 1998, 2010 and 2015. Productions of the play have earned multiple awards, including several Tony Awards, and high praise from critics. Of the 2015 revival, Ben Brantley of the "New York Times" wrote, "At the end of its uninterrupted two hours, you are wrung out, scooped out and so exhausted that you're wide awake. You also feel ridiculously blessed to have been a witness to the terrible events you just saw."
Directed by David Colacci with Rachel Carreri as assistant director, Hope Summer Repertory Theatre's production is designed by Joe P. Flauto (scenic), Jodi Ozimek (costumes), Peter Sargent (lighting) and Jeffrey Levin (sound). The production team also includes Erin Lindsay Carr (Actors Equity production stage manager); John Fortunato, David Jackson and Samantha Castle (assistant stage managers); Caitlyn Garrity (assistant lighting designer); Sara Scott (assistant costume designer); and Charlie Hill (assistant sound designer).
The cast features three Actors Equity Artists — Steve Cardamone (Eddie), Chip DuFord (Alfieri) and Susan Ericksen (Beatrice) — as well as Lea Sevola (Catherine); Skye Edwards (Rodolfo); Mischa Aravena (Marco), Rakeem Lawrence (Mike); Tom Bengston (Tomy/Mr. Lipari); Rachel Carreri (Mrs. Lipari); Connor Bernard (Louis/Submarine); Ben Love (Submarine/Ensemble); Griffin Baer and Matt Sena (Offcer/Ensemble); and Emily Hadick, Madeline Jones, Kristina Kastrinelis and Olivia Lehnertz (Ensemble).
Individual ticket prices for "A View from the Bridge" range from $22 to $26 for balcony/orchestra seating and $27 to $30 for mezzanine seating. Season tickets for this year's four main-stage productions are also available. Tickets may be purchased either at the ticket office in the Events and Conferences Office located downtown in the Anderson-Werkman Financial Center (100 E. Eighth St.), which is open weekdays from 9 a.m. to 5 p.m. and can be called at (616) 395-7890; or the ticket office in the DeWitt Center (141 E. 12th St.), which is open weekdays from 10 a.m. to 5 p.m. and Saturdays from noon to intermission.
After the July 21 opening, "A View From the Bridge" will continue on Saturday, July 22; Tuesday, July 25; Thursday, July 27; Wednesday, Aug. 2; Monday, Aug. 7; and Thursday, Aug. 10. All of the performances are at 7:30 p.m. in the DeWitt Center main theatre.
More information may be obtained online or facebook.com.
Background on Hope Summer Repertory Theatre
Hope Summer Repertory Theatre (HSRT) is West Michigan's premier professional theatre company in its 46th year. The company is a unique blend of distinguished professionals and young theatre artists from throughout the United States, creating an intergenerational synergy between emerging and advanced artists. The theatre is distinguished by the wide variety of plays and musicals performed by one resident acting company. This wide variety of repertoire is unified by the goal to explore and celebrate the joy and complexity of the human condition. The company numbers more than 100 annually taking up residence for the summer in Holland; producing six shows in rotation every summer on the DeWitt Theatre stage, a 494-seat thrust space; the Knickerbocker Theatre, a 536-seat proscenium space, and the DeWitt Studio, a 130-seat theatre-in-the-round.