Campus News
Knickerbocker Fall Film Series Continues with "Trip to Spain"
The Hope College Knickerbocker Theatre's Fall Film Series continues with the British comedy "Trip to Spain" on Monday-Saturday, Oct. 9-14, at 7:30 p.m. in the Knickerbocker Theatre in downtown Holland.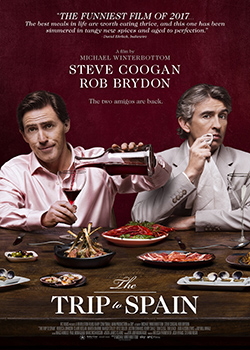 "Trip to Spain" has British comedians Rob Brydon and Steve Cooga come onto the big screen, once again, for a new escapade in Spain. The two comedians tour their way through a variety of European cities during a week-long drive filled with sightseeing and taste-bud adventures leading them to epiphanies regarding history, fame, fatherhood and what it means to settle into middle age.
The film is in English. It has a running time of one hour and 48 minutes, and is not rated.
Tickets are $6 for regular admission and $5 for senior citizens, Hope College faculty and children. Tickets will be sold at the door but are also available in advance at the Events and Conferences Office located downtown in the Anderson-Werkman Financial Center (100 E. Eighth St.). The office is open weekdays from 9 a.m. to 5 p.m. and can be called at (616) 395-7890.
The Knickerbocker Theatre is located at 86 E. Eighth St.