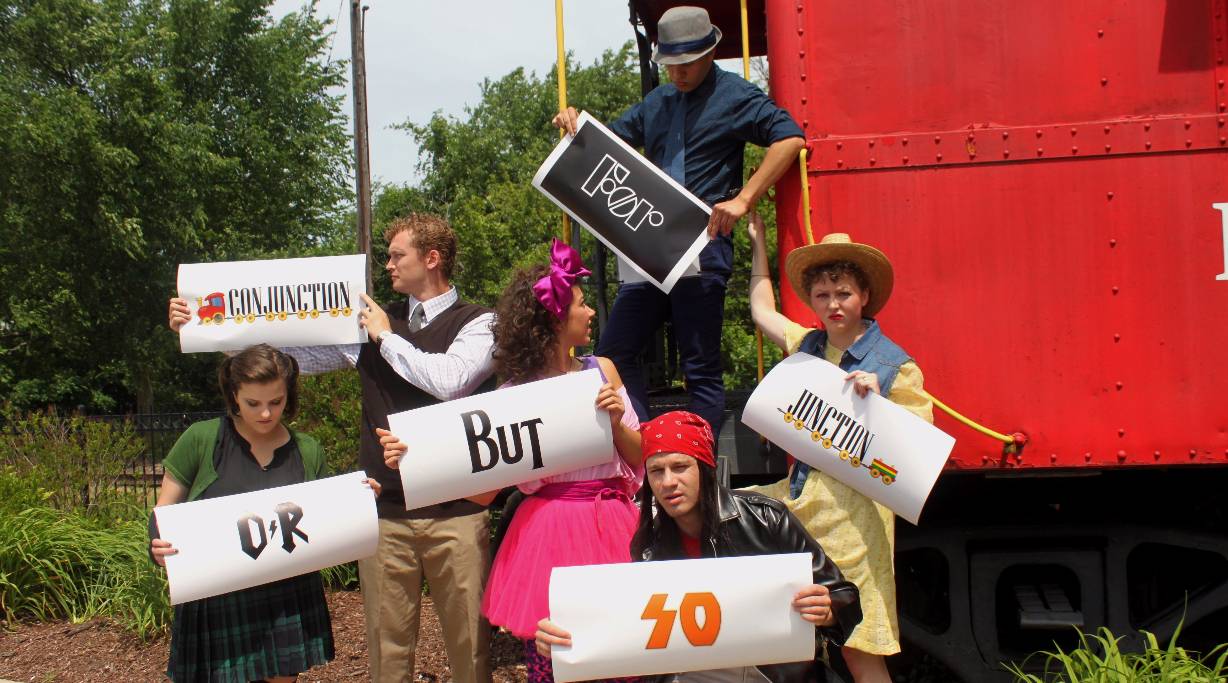 Hope Summer Repertory Theatre's Children's Performance Troupe opens the pop classic "Schoolhouse Rock Live!" on Friday, June 23, at 7:30 p.m. at the Knickerbocker Theatre.
The Emmy Award-winning, Saturday-morning cartoon series that taught history, grammar, math, science and politics through clever, toe-tapping songs on ABC-TV throughout the '70s, '80s, and '90s is brought to life on stage, instructing a whole new generation that "A Noun is a Person, Place or Thing" and "Three is a Magic Number." The lively musical revue relives the magic of the original series while telling the story of Tom, a nerve-wracked schoolteacher who is nervous about his first day of teaching.
Originally created by a Madison Avenue advertising executive whose son was having difficulty memorizing multiplication tables but could recall every word of popular rock songs, "Schoolhouse Rock" recruited a number of then-up-and-coming singer/songwriters to write and perform a series of infectious tunes that would not only entertain but also emphasize how much fun learning can be.
For those who spent many Saturday mornings of their childhood and parenthood singing "Conjunction Junction" or "I'm Just a Bill" in the middle of their living room, "Schoolhouse Rock Live!" will be a fun and nostalgic reminder of the songs they love. For younger audiences experiencing it for the first time, the show promises to be an entertaining journey into the world of learning — and proof that "Schoolhouse Rock" has become a modern-day classic.
The six-member ensemble features the talents of Skye Edwards as Tom, Griffin Baer as Joe, Emily Hadick as Dina, Kierney Johnson as Dori, Matt Sena as George, and Lea Sevola as Shulie.
All tickets for "Schoolhouse Rock Live!" are $15, and seating is general. Tickets may be purchased either at the ticket office in the Events and Conferences office located downtown in the Anderson-Werkman Financial Center (100 E. Eighth St.), which is open weekdays from 9 a.m. to 5 p.m. and can be reached at (616) 395-7890; or at the ticket office in the theatre lobby of the DeWitt Center (141 E. 12th St.), which is open weekdays from 10 a.m. to 5 p.m. and Saturdays from noon until intermission.
The Knickerbocker Theatre is located at 86 E. Eighth St., between College and Columbia avenues.
More information may be obtained online or on facebook.
Background on HSRT and "Schoolhouse Rock Live!"
Hope Summer Repertory Theatre
Hope Summer Repertory Theatre (HSRT) is West Michigan's premier professional theatre company for the last 45 years. The company is a unique blend of distinguished professionals and young theatre artists from all over the United States, creating an intergenerational synergy between our emerging and advanced artists. The theatre is distinguished by the wide variety of plays and musicals performed by one resident acting company. This wide variety of repertoire is unified by the goal to explore and celebrate the joy and complexity of the human condition. The company numbers over 100 annually taking up residence for the summer in Holland; producing 6 shows in rotation every summer on the DeWitt Theatre stage—a 494 seat thrust space, the Knickerbocker Theatre— a 536 seat proscenium space, and the DeWitt Studio—a 130 seat theatre in the round.
"Schoolhouse Rock Live!"
"Schoolhouse Rock Live!" features the talents of a six-member ensemble (identified in the news release on the preceding pages) and an extensive production team:
Production Staff: Taylor Adams (Asst. Costume Shop Manager), Erik Alberg (Lighting Designer), Anne Bakker (Managing Director), Gracen Barth (General Production Intern), Deborah Baxter (Scenic Charge Artist), Brian Bembridge (Scenic Designer), Nick Carlson (Asst. Master Electrician), Erin Carr (Head of Stage Management), Ken Chamberlain (Master Electrician), Reagan Chesnut (Operations Manager), David Colacci (Artistic Director), Phil DeYoung (Orchestra Manager), Emily White Freeman (Asst. Props Master) Theresa Ham (Costume Designer), David Jackson (Stage Management Intern), Tyler Knowles (Sound Shop Supervisor), Alex Nelson (Asst. Technical Director), Luke Parker (Asst. Sound Shop Supervisor), Chaz Sanders (Choreographer), Daniel Silverman (Technical Director), Andrew Souders (Costume Shop Head), Fred Tessler (Director), Alex Thompson (Music Director), Eric Van Tassell (Production Manager), Tracie VanLaw (Asst. Charge Artist), Amanda Werre (Sound Designer), Corinne Williams (Stage Manager)