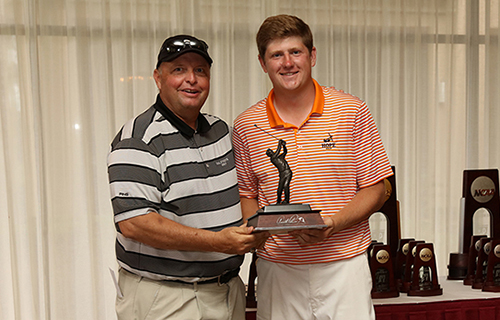 Josh Gibson cleared his mind and let loose with the biggest drive in the rich history of the Hope College men's golf team.
The sophomore from Grandville, Michigan (Grandville HS) set himself up to become the Flying Dutchmen's first national champion in golf by blasting a well-placed 290-yard drive on the first playoff hole Friday at Mission Inn Resort in Howey-in-the-Hills, Florida.

Gibson perfectly navigated a dogleg on the El Campeon Course's 18th hole with a pure drive that left him 113 yards from the green. Gibson chipped to 20 feet from the hole, then two-putted to top Wittenberg's Garrett Brickley.

This marks the third time in four years Hope athletes have claimed a national title. Diver Sarah Sheridan earned the 3-meter diving title in 2016, while the volleyball won the 2014 national title.

Gibson also is the Michigan Intercollegiate Athletic Association's first NCAA Division III national champ in golf.

"It's a pretty good feeling," Gibson said of his achievement. "I don't know what to say."

Gibson finished the 72-hole, four-day tournament at 1-under-par. He will receive an Arnold Palmer trophy for his victory.

The first-time All-American shot a 5-under-67 during the final round — only two shots behind his school record-tying 65 during the MIAA's national qualifier last month. He collected one eagle, five birdies, 10 pars and two bogeys during his round.

Gibson helped the Flying Dutchmen record their highest finish at nationals. Hope surpassed its ninth-place effort at the 2010 championships in Hershey, Pennsylvania.

Gibson headlines a PING Division III All-America team that includes nine golfers.

"It's exciting for a Michigan golfer, from the north country, to win," head coach Bob Ebels said. "We're not privileged where kids can play 12 months a year like Texas, Florida, California and Georgia. It's amazing."

Ebels said Gibson is the real deal.

"He was so focused, incredibly focused," Ebels said. "He doesn't have too many highs or lows. He controls his emotions. He was extremely good all week."

In the playoff, Gibson beat Brickley, whose team won the national championship, with a par on the par-4, 437-yard 18th hole to best Brickley's bogey.

Gibson birdied the 18th hole during the regulation to grab the clubhouse lead from George Toone of Texas-Tyler.

"(The 18th hole) is a dogleg right. You have to hit it over water. You can take off as much as you dare," Ebels said. "He hit the longest drive he's hit all week he was so pumped up. As a result, he had a really short approach. He hit within five feet birdie."

Gibson thought momentarily he had already secured the individual title with his fifth birdie on the back nine on the final hole of regulation. At least, that's what he was told.

Brickley's late charge forced a playoff. He birdied his final two holes to help Wittenberg secure first place in the team standings and finish the tournament at 1-under as well.

Gibson returned to the range and regained his focus after a few swings with Ebels.

"I did lose my focus a little bit," Gibson said. "I heard he birdied 17, then saw from the clubhouse his approach on 18 land really close to the hole. I went to the driving range and warmed up. They still had a team championship going on, so I had a little bit of time to get back focused.

"I went up on the playoff hole and just tried to swing as hard as I could, not have any thoughts in my mind."

The approach worked perfectly. A champion was soon crowned.