Hope College's Erin Herrmann and Alison Rich have been named the Michigan Intercollegiate Athletic Association Women's Outdoor Track & Field Athletes of The Week of April 24-30.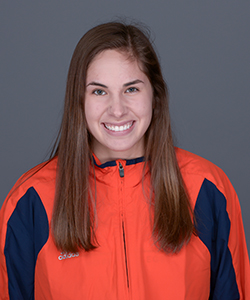 Rich is the MIAA's Field Athlete of the Week after winning the heptathlon at the Hillsdale College Gina Relays.

The junior from Haslett, Michigan (Haslett HS) recorded a score of 4,280 points that is the 14th most in NCAA Division III this season.

Rich won the javelin and 800 meters during the competition.

Rich is receiving MIAA Athlete of the Week honors for the second time in her career and the first time since her freshman season in 2015.

Herrmann is the MIAA Track Athlete of the Week for the third time in
her career and the second time this school year after breaking her own Hope record in the 3,000-meter
steeplechase at the Gina Relays.
The senior from Wheaton, Illinois (Wheaton-Warrenville South HS) clocked a time of 10 minutes, 27.23 seconds that is the fastest in NCAA Division III this season.
Herrmann eclipsed her own school record by 13 seconds.