Hope College's James Reymann and David White have been selected the Michigan Intercollegiate Athletic Association Defensive and Offensive Players of the Week for games September 18-24.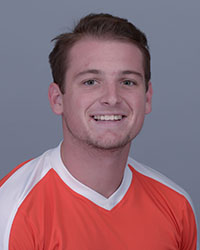 The two players contributed to the Flying Dutchmen's 2-1 overtime at Albion on Wednesday and a 5-0 win against Olivet on Saturday that propelled Hope into a second-place tie in the MIAA standings.
Reymann, a defender from Columbus, Ohio (Worthington Kilbourne HS), assisted on White's score-tying goal late in the second half at Albion.
Reymann assisted on two goals against Olivet and helped the Flying Dutchmen
record their third shutout of the season.
White, a midfielder from Vernon Hills, Illinois (Vernon Hills), registered both goals against Albion, including the game-winner 1 minute, 56 seconds into overtime.
White added his third goal of the season during the second half against Olivet.
This is the first MIAA weekly honor for both Reymann and White.