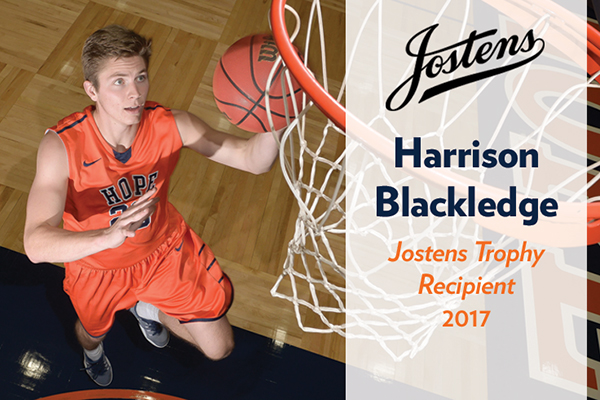 Harrison Blackledge embraces an unselfish approach to life taught by his family and inspired by his Christian faith.
The drive to put God first, others second and himself third has led the Hope College senior and Canton, Ohio native to be selected the 2017 Jostens Trophy recipient as the most outstanding NCAA Division III men's basketball player of the year.

Blackledge will be recognized at a luncheon Thursday along with women's honoree Lisa Murphy of Carnegie Mellon (Pennsylvania) University in Salem, Virginia - site of the NCAA Division III Men's Basketball Championship.

The award created by the Rotary Club of Salem, Virginia takes into account three vital parts: basketball ability, academic prowess, and community service. The trophy models the Rotary International motto of "Service Above Self" by recognizing those who truly fit the ideal of the well-rounded NCAA Division III student-athlete.

"I am humbled and grateful to even be nominated for this award," Blackledge said. "It's a humbling feeling to know that many people who have my back, in my corner, cheering for me I'm honored to represent Hope in this way. I've enjoyed every single moment at Hope College from Day 1 to now. I wouldn't trade it for anything."

Blackledge is the first Hope student-athlete to receive the Jostens Trophy. The Hoover High School graduate will receive a trophy that stands two-feet high and weighs sixty-four pounds. The eight-inch basketball in the center is made of Czech crystal, while the wood base is fashioned from solid cherry.

A second trophy honoring Blackledge will be permanently displayed outside of the Community Room at the Salem Civic Center.

In conjunction with the awarding of the Jostens Trophy, is the presentation of the Wooldridge Scholarship. The $1,000 scholarship will be given to Hope College in Blackledge's name.

Head coach Greg Mitchell said Blackledge embodies what the Jostens Trophy stands for.

"When you read the description of the Jostens award, you certainly get an image of Harrison: a great basketball player, an incredible scholar-athlete and a person who gives and serves," Mitchell said. "I am proud of how he has represented our program, our college, and his family."

Blackledge said he owes everything to his family: mother Cherie, father Todd, and brothers Quinn, Eli and Owen.

"The household we grew up in it was treat others like how you want to be treated," Harrison said. "Put God first, others second and yourself third. That's been a life motto for me and my family. God put himself on the shelf for us, sent his Son down. That's a conviction for us, what we believe in. As a family, I believe our actions have reflected that."

Blackledge will graduate this May from Hope College after completing his double major of communication and management. He plans to pursue a career in marketing in either the entertainment or athletic fields.

Blackledge carried a 3.91 grade point average into his final semester at Hope College.

On the court, Blackledge was named D3hoops Great Lakes Region Player of the Year and Michigan Intercollegiate Athletic Association Most Valuable Player as a senior. He averaged 20 points and 5.9 rebounds per game while leading the Flying Dutchmen to a regular-season MIAA title and to the sectional semifinals of the NCAA Tournament.

In addition to his on-court and classroom exploits, Blackledge has done extensive work in the community. For the past four years he has taught basketball to underprivileged students in the community. He also worked at the local Ronald McDonald House, after-school enrichment programs and with Special Olympics and the Miracle League. He also serves as a counselor at the Summer's Best Two Weeks Camp, where he mentors students.

"Over his career at Hope College, I have watched him impact and transform the lives of students, teammates and coaches," co-athletic director Tim Schoonveld said. "He is a fantastic young man who is leaving an incredible mark on our campus and in our community."
Blackledge is the third Michigan Intercollegiate Athletic Association basketball player to be awarded the Jostens Trophy. Lisa Winkle of Calvin College was the 2007 women's honoree, while Carissa Verkaik of Calvin was the 2013 women's honoree.

This marks the 20th year the Jostens Trophy has been presented. The trophy models the Rotary International motto of "Service Above Self" by recognizing those who truly fit the ideal of the well-rounded NCAA Division III student-athlete.

The winner of the Jostens Trophy is chosen by a national selection committee that consists of college coaches, former athletes, college administrators and selected members of the media. The members of the national selection committee cast their votes based on three criteria: basketball ability, academic ability and community service.

The Wooldridge Scholarship is named after Dan Wooldridge, a Salem Rotarian and retired commissioner of the Old Dominion Athletic Conference, as a way of honoring him for his lifelong commitment to service and excellence. A veteran of the officiating ranks, Wooldridge is a Paul Harris Fellow and has in the past served as the Rotary Club's President.