Hope College's Sydney Jones and Sierra Mutschler have been chosen the Michigan Intercollegiate Athletic Association Softball Players of the Week for games played April 10-16.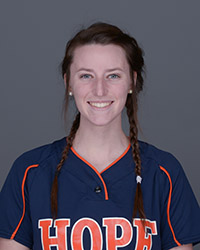 Jones is the MIAA Pitcher of the Week for the second time this season and the third time in her career.

Mutschler is the MIAA Position Player of the Week for the first time.

Jones fired two complete-game shutouts last week and fired 14 scoreless innings over three appearances. She raised her record to 10-2 with a seven-inning, one-hit performance in Game 1 at Kalamazoo on Wednesday and a five-inning, one-hit effort against Kalamazoo on Saturday.

Jones also tossed two scoreless innings to start Game 2 against Kalamazoo.

Jones struck out 29 batters, including 15 in Game 1 against Kalamazoo - her second-highest total of the season.


Mutschler batted .636 last week with seven hits in 11 at-bats. She also collected seven RBIs.

Two of Mutschler's hits were home runs.

Mutschler now has 15 home runs in her career — tied for sixth place all-time for the Flying Dutch