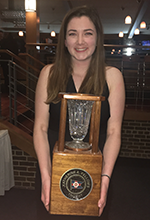 Reeg received two awards. She was selected by the All-Conference Sailor Committee based "upon outstanding on-the-water performance in 2016" to receive an All-Conference Sailor award for Women's Skipper Honorable Mention. She was also awarded the Katherine A. Fellows trophy for winning the MCSA Women's Singlehanded Championship in October. Reeg's MCSA championship had earned her a berth to compete in the 2016 LaserPerformance College Sailing Singlehanded Nationals of the Inter-Collegiate Sailing Association of North America (ICSA) in November.
The team, along with the Grand Valley State University Sailing Club, received the Woodward Trophy for Regatta of the Year for co-hosting the MCSA fall championships at Lake Macatawa on Saturday, Nov. 12.
Also during the event, Hope junior Carrie Ritter of Glen Ellyn, Illinois, was elected vice commodore of the MCSA's executive board, a position previously held by Reeg, and the MCSA finalized its regatta schedule for 2017. Lake Macatawa will host Grand Valley's Laker Showdown on April 1-2 and Hope's Emma Biagioni Regatta on November 4-5.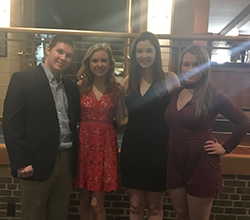 The four Hope students who attended the meeting and banquet in Milwaukee, who are members of the Hope team's executive board, were sophomore Lisette Boer of Holland; junior Jacob Pledger of Lehigh Acres, Florida; Reeg, who was the team's commodore during 2015; and Ritter, who was the team's commodore during 2016.
The Hope College Sailing Team, which is a club activity at the college, sails boats called 420s, which are mid-sized, two-sailed, two-person-crew racing dinghies, as well as a J-22 keelboat. The club sails three-five times a week out of Macatawa Bay Yacht Club.
The team is open to all experience levels and is professionally coached by Cappy Capper. Capper founded and served as president of the Midwest High School Sailing Association and as vice president of the Interscholastic Sailing Association of North America, and has coached several high school, college and youth racing teams to national championship regattas.