The annual César Chávez Lecture Series at Hope College will feature the keynote address "Caminando con Confianza: Cesar Chavez and Migratory contributions of Latina/os in the U.S." by Samuel Saldívar of the Michigan State University faculty on Tuesday, March 27, at 6 p.m. in the Schaap Auditorium of the Jim and Martie Bultman Student Center.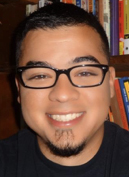 The public is invited. Admission is free.
The talk will examine and celebrate the significant impact that Chavez and other UFW workers, like Dolores Huerta, had on America in relation to the history of (im)migration between the U.S. and Mexico (i.e. Bracero Program). Saldívar will also discuss how the communities and issues are being projected in current American popular culture spaces.
Saldívar is an assistant professor and undergraduate student coordinator in the Chicano/Latino Studies Program at Michigan State University. He is a scholar of Chicanx and Latinx narrative whose publications and scholarship examine how Latinx characters are constructed in narrative fiction, film, television and comic mediums.
The César Chávez Lecture at Hope is named in honor of César E. Chávez, a first-generation American, born on March 31, 1927, just outside of Yuma, Arizona. Having experienced the hardships of life as a farm worker firsthand, Chavez worked tirelessly to improve the lives of farmworkers and Latino families. He became the founder and president of the United Farm Workers of America. His legacy has impacted the lives of millions of people all around the world. He was passionately driven by these mantras "we cannot seek achievement for ourselves and forget about progress and prosperity for our community... Our ambitions must be broad enough to include the aspirations and needs of others, for their sakes and for our own"; and "Sí, se puede!" (Spanish for "Yes, it is possible"… "Yes, it can be done"). His work led to nationwide support and numerous improvements for union laborers.
The event is being co-sponsored by the college's Center for Diversity and Inclusion, Latino Student Organization and GROW program.
The Jim and Martie Bultman Student Center is located at 115 E. 12th St., at the center of the Hope campus between College and Columbia avenues along the former 12th Street. Schaap Auditorium is on the building's lower level near the southwest corner.