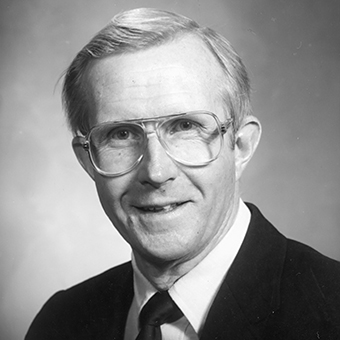 Dr. Richard Vandervelde, who was a member of the Hope College mathematics faculty for 33 years until retiring in 2000, died on Friday, Nov. 9, 2018, at age 80.
He joined the faculty in 1967. He marked his last full day of teaching — on April 27, 2000 — with style and a sense of fun, wearing a tuxedo to his classes.
His tenure at the college included chairing the Department of Mathematics, chairing the Albert E. Lampen Mathematics Contest and Conference, and serving the college's computer center for a time starting in 1975 as "academic ombudsman" (an interim role until a director was appointed). An avid runner, he was a volunteer assistant cross country coach for 12 seasons beginning in 1997.
He was co-investigator of a grant from the National Science Foundation to link mathematics and physics. His professional activities beyond campus included work with the Advanced Placement Mathematics Program and the Mathematical Association of America.
For more than 50 years he was a member of Third Reformed Church in Holland, where he served on the consistory and contributed to the tenor section of the choir. His community involvement also included helping found the Holland Recreational Youth Soccer League, serving as a member of the board from 1979 to 1984.
He was born in Waxahachie, Texas, and grew up in Indianola, Iowa, graduating from Indianola High School in 1956. He met his first wife, Phyllis J. White, who preceded him in death, while in high school and they married in 1960, the same year that he graduated from Simpson College. He completed his master's degree and doctorate at the University of Iowa in 1962 and 1967 respectively.
He was preceded in death by his parents, Ben and Fran Vandervelde; his wife of almost 45 years, Phyllis; brother, David; and brother-in-law, Duane White.
Survivors include his wife, L. Jane; sons, Michael (Kendra) Vandervelde and Scott (Stacie) Vandervelde; sister-in-law, Sharon (Jerry) Rhoads; brother-in-law, Keith White; sister-in-law, Irene White; sister-in-law, Julie (Rob) Leman; step-children, Linda (Eric) Haworth, Mark (Carla) Vogt, Laura Vogt and Brian Vogt; nine grandchildren; and two great-grandchildren.
Arrangements are by Langeland-Sterenberg Funeral Home. A memorial service will be held on Saturday, Dec. 1, at 10 a.m. at Third Reformed Church, which is located at 111 W. 13th St., on 13th Street at Pine Avenue. A time of visitation with the family will immediately follow the service at the church.
Due to his belief in the need and benefit of college scholarships, the family requests that memorial gifts be made to the Phyllis J. Vandervelde Memorial Scholarship at Hope College, P.O. Box 9000, Holland, MI 49422 or the 1960 Centennial Class Scholarship at Simpson College, 701 North C St., Indianola, IA 50125.