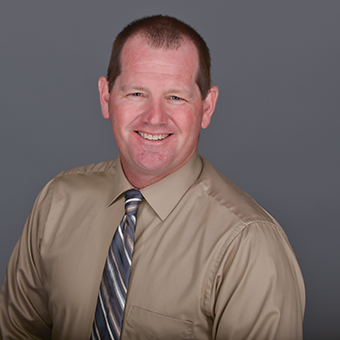 Tim Koberna, assistant professor of kinesiology and head athletic trainer at Hope College, is receiving the 2018 Student Senate Preceptor of the Year award from the Great Lakes Athletic Trainers' Association (GLATA) for his outstanding work with students.
Nominated by his students at Hope, he has been selected from among all of the athletic trainers who serve as mentors in a region including Illinois, Indiana, Michigan, Minnesota, Ohio and Wisconsin. He will receive the award during GLATA's 50th Annual Meeting and Symposium, being held on Wednesday-Saturday, March 14-17, in Wheeling, Illinois.
"The award honors the clinical educator who provides valuable opportunities for knowledge acquisition and skill development in the clinical setting of an athletic training program," said Dr. Kirk Brumels, who is a professor of kinesiology and chair of the department at Hope, as well as director of the college's athletic training program. "We have known that Tim is deserving of this award ever since he stepped foot onto our campus, but it is certainly nice to have others recognize that as well."
Athletic trainers are allied health care professionals who prevent, manage and rehabilitate injuries in physically active populations. Hope, which offers a major in athletic training as one of three majors within the Department of Kinesiology, was the first liberal arts college in Michigan to have its athletic training program accredited by the Commission on Accreditation of Athletic Training Education.
Koberna has been a member of the Hope faculty since 2013. His teaching in the college's athletic training program includes practicum courses for first-year students learning basic skills and for advanced junior- and senior-level students. In addition to their coursework, students work alongside Koberna and the other members of the athletic training staff (two full-time and two part-time) in the athletic training facilities or with individual teams, and also have field placements off campus.
"In the morning we're in the classroom setting, and in the afternoon we're applying a lot of those same skills and techniques," Koberna said. "It's a unique model and lends itself to learning and for our students becoming proficient with their skill sets."
Koberna graduated from Mount Union College with a Bachelor of Science degree in sports medicine in 1990, and from Western Michigan University with a Master of Arts degree with a major in physical education-athletic training in 1992.
Immediately prior to coming to Hope, he was head athletic trainer at Wartburg College in Waverly, Iowa, for eight years. While at Wartburg, he was named the College/University Athletic Trainer of the Year by the Iowa Athletic Trainers' Society in May 2011. He was also on the athletic training staff at Albion College for five years and at Western Michigan University for eight years.
In addition to his work at the college, he has been a medical staff member for USA Wrestling and the United States Marine Corps/USA Wrestling Junior and Cadet National Championships in freestyle and Greco-Roman wrestling.