The Department of Theatre at Hope College will present "Into the Woods" on Wednesday-Saturday, Nov. 14-17, at 7:30 p.m. There will also be a free matinee on Sunday, Nov. 18, at 2 p.m. All performances will be in the DeWitt Center main theatre.
Directed by Hope theatre faculty member Rich Perez, "Into the Woods" is a musical with music and lyrics by Stephen Sondheim and book by James Lapine. The story intertwines the plots of several commonly known fairy tales, with main characters taken from "Cinderella," "Jack and the Beanstalk," "Little Red Riding Hood" and several other Grimm Brothers fairy tales. The musical also introduces two new characters, a childless baker and his wife, who are on a quest to begin their family. While all of the characters head into the woods to make their wishes come true, they quickly realize that the consequences of their actions may haunt them later.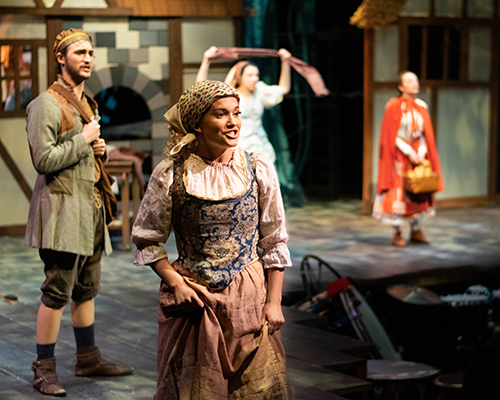 "What intrigued me about directing 'Into the Woods' was understanding what the 'woods' represent. I believe the play explores the courage it takes to pursue our dreams, which often requires us to step outside of our comfort zone and into the woods," Perez said. "Of course what the characters (and all of us) ultimately must discover, is achieving our dreams is not always a recipe for happiness. That knowledge can be a bitter pill and why Little Red sings, 'Isn't it nice to know a lot! And a little bit not!' Getting what we hope for, has complex lessons to teach us all. What we do with those lessons is the rub."
In addition to Perez, the production team includes guest artist David Barber as scenic designer; faculty members Michelle Bombe as costume designer, Perry Landes as lighting and sound designer, Sherri Pilon as music director and Christopher Fashun as orchestra conductor; and staff members Jane Bosko as piano accompanist, Paul Anderson as technical director and Darlene Veenstra as costume-shop manager. In addition to the faculty and staff, multiple students also serve on the production team. Senior Elizabeth Stuart of Midland is the stage manager and junior Gracen Barth of Dallas, Texas, is the production manager. Freshman Sam Joachim of Dearborn and sophomores Mackenzie Hester of South Bend, Indiana, and Makeya Royer of Boston, Massachusetts, serve as the assistant stage managers. Senior Megan Clark of Clymer, New York, and junior Maxwell Lam of Holland are the assistant costume designers.
The cast includes senior Jose Angulo of San Francisco, California; freshman Red Arellano of Anchorage, Alaska; senior Griffin Baer of Holland; junior Teresa Cameon of South Lyon; freshman Emma Clark of DeWitt; senior Megan Clark of Clymer, New York; senior Brianne Crouse of Lake Orion; junior Mariah Dingman of San Diego, California; senior Brynne Fritjofson of Granby, Connecticut; freshman Blade Gates of Manistee; junior Kathryn Joachim of Dearborn; freshman Alexander Johnson of Indianapolis, Indiana; junior Maxwell Lam of Holland; senior Olivia Lehnertz of Bloomfield Hills; senior Kathleen Muloma of Carmel Indiana; freshman Zach Pickle of Three Rivers; junior Emily Sandstedt of Lake Zurich, Illinois; junior Mia Van Erp of Forest Hills; and sophomore Riley Wilson of North Canton, Ohio.
Tickets for the evening performances are $10 for regular admission, and $7 for senior citizens, Hope faculty and staff. Tickets are free for Hope College students and children 18 and under, and are available at the Events and Conferences Office located downtown in the Anderson-Werkman Financial Center (100 E. Eighth St.). The office is open weekdays from 9 a.m. to 5 p.m. and can be called at 616-395-7890. Patrons may purchase tickets in person, online at hope.edu/tickets or by calling the ticket office.
The DeWitt Center is located at 141 E. 12th St., facing Columbia Avenue between 10th and 13th streets.