Campus News
HSRT Launches Sensory-Friendly Initiative for Patrons with Autism or Other Developmental Disabilities
As part of its 47th season, Hope Summer Repertory Theatre (HSRT) has launched a sensory-friendly initiative to directly increase accessibility for patrons with autism and other developmental disabilities. Since the opening of the world-premiere musical "Dragon Pack Snack Attack" on June 13, the Holland-based theatre has been offering tools and materials to assist patrons of all abilities with enjoying a welcoming, safe, and comfortable theatre experience.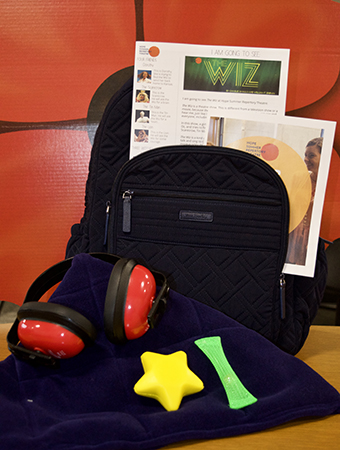 "It's important to us at HSRT that live theatre is accessible to everyone, and that audience members are able to control their engagement with its immersive nature," said Reagan Chesnut, who is director of the initiative and the associate managing director of HSRT. "While this initiative specifically addresses needs of audience members with autism and other developmental disabilities, it is our hope that it will help equip an even wider array of people for a safe and enjoyable experience."
Through consultation with the "live, work, play, worship" organization Benjamin's Hope and a generous donation from Vera Bradley, HSRT has put together social stories, performance guides and 10 sensory bags available for check-out for every performance of "Dragon Pack Snack Attack," "The Wiz," "Godspell" and "The Odd Couple."
Sensory bags are equipped with tools to help patrons adapt to the immersive theatre experience. These bags contain noise dampening headphones, squeeze stress ball, fidget tool, and weighted lap pad for audience members to use during performances.
In addition to the sensory bags, HSRT has developed social stories to prepare patrons ahead of time, as well as while viewing the production, with all the information they need to feel comfortable in the performance. The social story "Going to the Theatre" is a visual guide that walks audience members through every step of the process, from picking up a ticket to safely exiting the theatre. In addition, individual performance guides are available for each production, containing show-specific information, such as triggering moments like loud noises, audience interaction, startling special effects, and anticipated applause.
The social stories are available for each production on the HSRT website (hope.edu/hsrt/learn) and are also included in the sensory bags. Sensory bags can be checked out from the Guild Store in the theatre lobby of the DeWitt Center at no cost.
For those who may need a break from the loud noises, varying lights and crowds, remote viewing will be available in the lobby during productions of "The Wiz," "Godspell" and "The Odd Couple."
"Theatre is for everyone; we want to make sure we are providing services that make HSRT accessible for our whole community," said Lenny Banovez, HSRT's artistic director. "We hope that everyone who comes through the doors of the theatre can fully enjoy each of our productions."
HSRT's season runs through August 10. More information can be found online or on facebook.