Kinesiology faculty member Nancy Kamstra and Residential Life staff member Liz Kubias have been named recipients of Hope College's 19th annual "Vanderbush-Weller Awards" for strong, positive impact on students.
The awards recognize and support the efforts of Hope faculty and staff who make extraordinary contributions to the lives of students above and beyond what is expected in their regular assignments.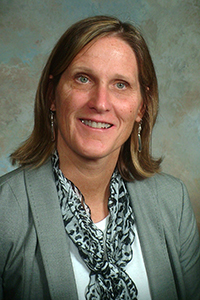 Kamstra is an associate professor of kinesiology, appointed in 2010 after having served as an adjunct member of the faculty since 2004. She specializes in classes for students who are preparing to become health-education teachers, in addition to teaching First-Year Seminar and Health Dynamics courses open to all students.
A student writing in support of her nomination noted, "She is everything a Hope College professor should be: kind, caring, challenging, encouraging but willing to tell you straight, engaging in class, and has a goal to help shape students to be the best people they can be in their future careers."
Kamstra's teaching at the college is informed by the 28 years, from 1982 to 2010, that she spent as a physical education/health and learning disabilities teacher in the Zeeland Public Schools at both the elementary and secondary level. Her additional activity through the years as a member of the Hope faculty has included writing the college's health minor approved by the state Department of Education, and serving on the college's Teacher Education Council, Campus Life Board and Residence Life Committee.
She graduated from Hope in 1982 with majors in physical education and learning disabilities, and earned a master's of secondary education degree with an emphasis on health from Grand Valley State University in 2008. She was an adjunct or visiting professor of movement science at Grand Valley from 2006 to 2010.
Kubias is the residential life coordinator for Cook Hall. A member of the staff since 2014, she oversees daily community life through connecting with residents, holding conduct meetings, serving in an on-call rotation, and supervising a team of resident assistants. In addition to overseeing Cook Hall, Kubias also supervises the resident directors in Durfee Hall, Voorhees Hall, and College East Apartments.
"I am inspired by her tireless work, encouraged by her care, and grounded by her passion and humility," a colleague shared in Kubias' nomination. Kubias was further praised for shaping the culture of Cook Hall by fostering an environment of inclusivity that welcomes people of all walks of life and celebrates differences.
Outside of Residential Life, Kubias is the advisor for Greek Judicial Board, the Hope Advocates for Sustainability and a fraternity. Kubias also co-chairs the Alcohol and Other Drug Prevention Education Team, has been a judge for the Pull tug-of-war for the past two years and is a member of Hope's hand bell choir.
She completed a Bachelor of Science degree in biology and Spanish at Central Michigan University in 2011, and a Master of Education degree in counselor education at Clemson University in 2014.
The "Vanderbush-Weller Development Fund" was established in honor of longtime Hope professor and football coach Alvin Vanderbush, who retired in 1972 and died on Feb. 20, 2005. It was created by Ken and Shirely Weller of Pella, Iowa. Ken Weller is one of Vanderbush's former players and also a former Hope faculty colleague.