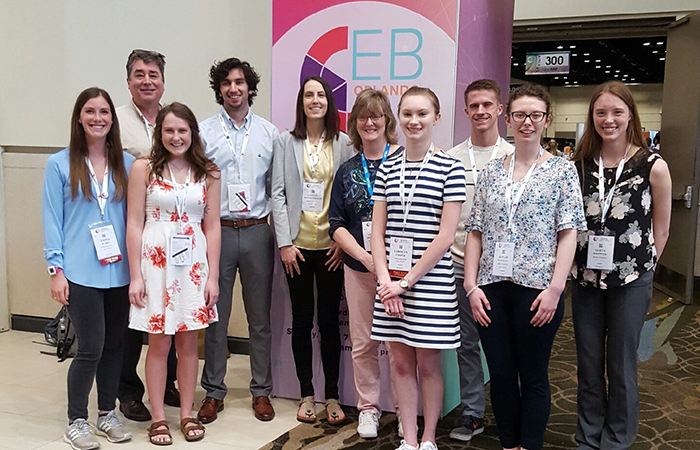 Multiple Hope College students made research presentations during the national Experimental Biology meeting held in Orlando, Florida, on Saturday-Tuesday, April 6-9.
Selected by event organizers through a competitive process, the students presented research that they had conducted collaboratively with members of the Hope faculty.
The students who participated were: sophomore Sarah Bonema of Troy; junior Alicia Bostwick of Zionsville, Indiana; sophomore Carolyn Cooper of Holland; sophomore Sarah Dible of Lombard, Illinois; senior John Larson of Norton Shores; senior Mackenna Senti of Zeeland; junior Skylar Sundquist of Paris, Michigan; and sophomore Emma Wabel of Linden.
The students' faculty mentors were: Dr. Maria Burnatowska-Hledin; Dr. Leah Chase; Dr. Kristin Dittenhafer-Reed; Dr. Virginia McDonough; and Dr. Michael Pikaart. Dittenhafer-Reed, McDonough and Pikaart also attended the event, with Dittenhafer-Reed making a presentation as well.
Experimental Biology is the annual meeting of five societies: the American Association of Anatomists, the American Physiological Society, the American Society for Biochemistry and Molecular Biology, the American Society for Investigative Pathology, and the American Society for Pharmacology and Experimental Therapeutics. The meeting featured more than 50 concurrent scientific sessions and more than 5,000 poster sessions.