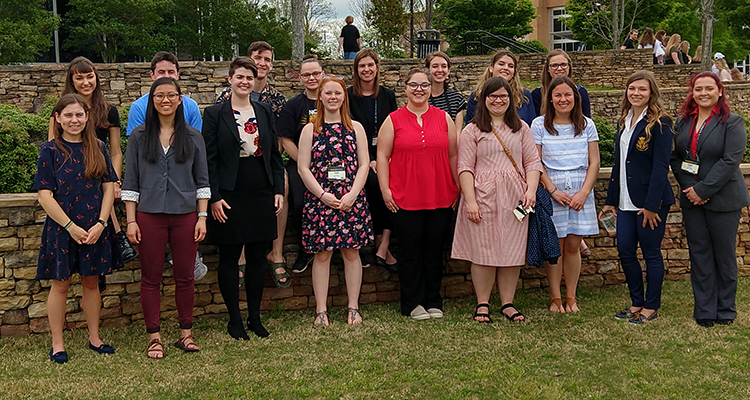 A total of 17 Hope College students presented their collaborative faculty-student research during the 33rd National Conference on Undergraduate Research, held on Thursday-Saturday, April 11-13, at Kennesaw State University in Georgia.
Organized by the Council on Undergraduate Research, NCUR is the largest undergraduate research conference in the country. More than 4,200 undergraduate researchers, faculty mentors and others attended this year.
The abstracts for the Hope projects are available online. The Hope participants and their research projects were:
Lucy Cousens: "Career, Calling and Well-Being"
Benjamin Davison: "Freedom in the Preaching of Jonathan Edwards"
Annie Dokter: "The Role of Psychiatric Diagnoses in the Incidence of Delirium in Non-ICU Acute Care Units"
Kelly Fuhs: "Indigenous Women and the Marketplace in Latin America; Agency, Culture, and Environment"
Irene Gerrish: "Platonic-Augustinianism and its Implications for the Secular State"
Annika Gidley: "A Place to Call Their Own: A Computational Analysis of Digital Fan Fiction Archives"
Safia Hattab: "'A Terribly Incomplete Thing': A Critique of Racism in the American Dream through a Bildungsroman Lens"
Cassie Loomis: "Poetry and Prayer: A Study of Santa Teresa de Jesus's 'Vuestra soy, para Vos nací'"
Sarah Lundy: "Archive Stories: Public History, Nadia Boulanger and the American Library in Paris"
Jacob Mazur-Batistoni: "The Fruit of Christ's Saving Work"
Aine O'Connor: "InclusiviREAD: Disability, Literature and Community"
Kaitlyn Rustemeyer: "Churching Shopping and Protestant Worship Diversity in Naperville: Examining the Fluid Relationship Between Worship Practices Within Churches and the Church Shopping Culture of the Local Community"
Jenna Savage: "Investigating Inorganic Chemistry Educators' Beliefs about Teaching and Learning"
Michaela Stock: "Archive Stories"
Rachel Tishkoff: "Peace, Love and God: An Exploration of the Most Profound Desires of the Heart"
Carolyn Wetzel: "Indigenous Women and the Marketplace in Latin America: Agency, Culture and Empowerment"
Emily Wolfe: "Race Relations in Post-Apartheid South Africa."
Founded in 1978, CUR supports and promotes high-quality undergraduate student-faculty collaborative research and scholarship. CUR has more than 13,000 individual members from more than 1,000 affiliated colleges, universities and associations from around the world.