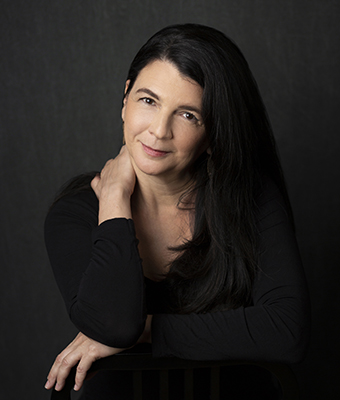 Hope College's Jack Ridl Visiting Writers Series will feature two authors with Hope ties, Heather Sellers and Mira Bartók, on Tuesday, Oct. 1, for the 14th Annual Tom Andrews Memorial Reading, which is named in honor of a Hope graduate who was a poet.
Sellers is a former member of the Hope English faculty, and Bartók is a former student. They will participate in a question-and-answer session at 3:30 p.m. in the Fried-Hemenway Auditorium of the Martha Miller Center for Global Communication, and present a reading at 7 p.m. in the John and Dede Howard Recital Hall of the Jack H. Miller Center for Musical Arts.
The public is invited to both events. Admission is free.
Heather Sellers is a Florida native and a professor in the undergraduate and MFA creative writing programs at the University of South Florida. She was previously (1995-2013) at Hope, where her teaching excellence was recognized with the Hope Outstanding Professor Educator (H.O.P.E.) Award presented by the graduating Class of 2011. In addition to her popular textbook, "The Practice of Creative Writing," she has written a children's book, a collection of linked short stories titled "Georgia Under Water," three volumes of poetry, several chapbooks, a memoir, and essays published in major magazines. Her memoir, "You Don't Look Like Anyone I Know," which reflects on her experience with a rare neurological condition known as face blindness, or prosopagnosia, was Editor's Choice at the New York Times and featured by NPR. Her essay "Haywire" was chosen for Best American Essays by Leslie Jamison and her essay "Pedal, Pedal, Pedal" was awarded a Pushcart Prize in 2018.
Mira Bartók, who attended Hope in the latter 1970s, is an author and artist who lives in Western Massachusetts. Her middle-grade fantasy novel "The Wonderling: Songcatcher," which she both wrote and illustrated, will be made into a movie by award-winning British director Stephen Daldry. Her other writing for children includes a series of books on ancient and indigenous cultures (The Ancient and Living Stencil Series). Her memoir, "The Memory Palace," was a New York Times bestseller and the winner of the National Book Critics Circle Award for autobiography. She has also written essays that have appeared in numerous journals, magazines, and anthologies. Currently, she is working on both the story and illustrations to continue her series that began with "The Wonderling."
Every year, one reading in the Jack Ridl Visiting Writers Series is done in honor of Tom Andrews (1961-2001), a 1984 Hope graduate who was born and grew up in West Virginia. Following Hope, he earned his MFA at the University of Virginia. In his lifetime, Andrews published three books of poems and a memoir, "Codeine Diary," about his coming to terms with his hemophilia and his determined refusal to let it circumscribe his life. He also edited two collections of essays, "The Point Where All Things Meet: Essays on Charles Wright" and "On William Stafford: The Worth of Local Things." In 2002, Oberlin College Press published "Random Symmetries: The Collected Poems of Tom Andrews," a posthumous volume comprised of two previously published books of poetry, "The Brother's Country" and "The Hemophiliac's Motorcycle," and other works.
Additional information about the series can be found online at hope.edu/jrvws.
The Martha Miller Center for Global Communication is located at 257 Columbia Ave., at the corner of Columbia Avenue and 10th Street. The Jack H. Miller Center for Musical Arts is located at 221 Columbia Ave., between Ninth and 10th streets.