The Jack Ridl Visiting Writers Series at Hope College will feature Chen Chen and Hilary Plum on Thursday, March 7, at 7 p.m. in the John and Dede Howard Recital Hall of the Jack H. Miller Center for Musical Arts.
There will also be a question-and-answer session earlier in the day, at 3:30 p.m. in the Fried-Hemenway Auditorium of the Martha Miller Center for Global Communication.
The public is invited to both events. Admission is free.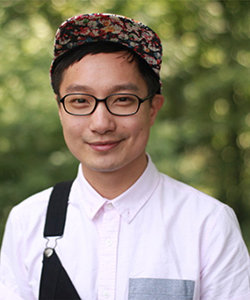 Chen Chen is the author of When I Grow Up I Want to Be a List of Further Possibilities, which was longlisted for the National Book Award and won the A. Poulin, Jr. Poetry Prize, the GLCA New Writers Award, and the Thom Gunn Award for Gay Poetry. The collection was also a finalist for the Lambda Literary Award for Gay Poetry and named one of the best of 2017 by The Brooklyn Rail, Entropy, Library Journal, and others. His work has appeared in many publications, including Poetry, Tin House, Poem-a-Day, The Best American Poetry, Bettering American Poetry and The Best American Nonrequired Reading. Recently, his work has been translated into French, Greek, Spanish and Russian. Poets & Writers Magazine featured him in its Inspiration Issue as one of "Ten Poets Who Will Change the World." He has received fellowships from Kundiman, Lambda Literary and the Saltonstall Foundation. He earned his MFA from Syracuse University and his Ph.D. in English and creative writing from Texas Tech University; currently he teaches at Brandeis University as Jacob Ziskind Poet-in-Residence, and with the poet Sam Herschel Wein he edits the journal Underblong. He lives in Waltham, Massachusetts, with his partner, Jeff Gilbert and their pug dog, Mr. Rupert Giles.
Hilary Plum is the author of the novel "Strawberry Fields," winner of the Fence Modern Prize in Prose (2018); the work of nonfiction "Watchfires" (2016), winner of the 2018
GLCA New Writers Award; and the novel "They Dragged Them Through the Streets" (2013). She has worked for a number of years as an editor of international literature, history and politics. She teaches creative writing at Cleveland State University and in the NEOMFA program, and is associate director of the CSU Poetry Center. With Zach Savich she edits the Open Prose Series at Rescue Press. Recent fiction, essays, poetry, and criticism have appeared in Bookforum, Full Stop, Consequence, Poetry Northwest, the Mississippi Review, the Seneca Review, Big Big Wednesday and Elsewhere.
Additional information about the series can be found online.
The Martha Miller Center for Global Communication is located at 257 Columbia Ave., at the corner of Columbia Avenue and 10th Street. The Jack H. Miller Center for Musical Arts is located at 221 Columbia Ave., between Ninth and 10th streets.