Hope College's 154th Commencement, celebrating the graduating Class of 2019, will be held on Sunday, May 5, at 3 p.m. at Ray and Sue Smith Stadium. Baccalaureate will be held earlier in the day, at 9:30 a.m. and 11:30 a.m. in Dimnent Memorial Chapel.
Just over 700 graduating seniors will be participating.
The Commencement speaker will be Dr. Kristen Gray, who is the associate dean for health and counseling and directs the Counseling and Psychological Services office at the college. The Baccalaureate speaker will be Dr. Steven Bouma-Prediger, who is the Leonard and Marjorie Maas Professor of Reformed Theology.
Gray initially served at Hope from 1987 to 1990 as assistant director of Career Planning and Placement Services. She was subsequently a crisis counselor and in career services with the Center for Women in Transition in Holland before returning to the college in 1993 as a member of the Counseling Center staff.
She became the center's director, and associate dean with additional administrative oversight of the college's Health Clinic, in 1998 when her predecessor Dr. Darell Schregardus retired. She also teaches in the Phelps Scholars Program and previously taught in the Department of Psychology.
In 2017, she received the national President's Award from the Association for University and College Counseling Center Directors. She was elected to a three-year term on the association's Governing Board the same year.
Gray graduated from Gustavus Adolphus College with majors in Scandinavian studies and early childhood education, and completed her doctorate in clinical psychology at Adler University. While pursuing her doctorate, she held clinical placements through Holland Hospital Behavioral Health.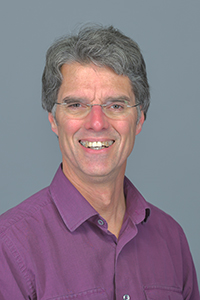 Bouma-Prediger joined the faculty in 1994, and also oversees the environmental studies minor and chairs the Campus Sustainability Advisory Committee, otherwise known as the "Green Team." He previously served as associate dean for teaching and learning, chaired the Department of Religion and was a faculty representative to the Board of Trustees.
His scholarship focuses on ecological theology and ethics. He is the author of six books and numerous published book chapters and scholarly articles and essays, and has presented many papers and invited addresses. His book "For the Beauty of the Earth" won an "Award of Merit" from Christianity Today in the theology/ ethics category of the magazine's "2002 Book Awards" program, and in 2000 his book "Evocations of Grace" was one of only five books named "editor's picks" book of the year by Christian Century.
Bouma-Prediger held the John H. and Jeanne M. Jacobson professorship from 2003 to 2007. Among other honors, he was invited to deliver the Commencement address in 1998, received the "Hope Outstanding Professor Educator" (H.O.P.E.) Award in 1999 and the "Faculty Appreciation Award" in 2001 and was invited to speak through the "Last Lecture Series" organized by the college's chapter of Mortar Board in 2009.
Prior to coming to Hope, he was an assistant professor of philosophy and chair of the department at North Park College in Chicago, Illinois. A 1979 Hope graduate, he holds an M.Phil. from the Institute for Christian Studies; an M.Div. from Fuller Theological Seminary; and a Ph.D. from the University of Chicago.
In the event of rain, Commencement will be held at the Richard and Helen DeVos Fieldhouse. Admission to Baccalaureate, and to Commencement if indoors, is by ticket only. In addition, Commencement will be streamed online and broadcast live in the Concert Hall of the Jack H. Miller Center for Musical Arts.
Dimnent Memorial Chapel is located at 277 College Ave., at the corner of College Avenue and 12th Street. The Jack H. Miller Center for Musical Arts is located at 221 Columbia Ave., between Ninth and 10th streets. Ray and Sue Smith Stadium is located at 313 Fairbanks Ave., between 13th and 16th streets. The Richard and Helen DeVos Fieldhouse is located at 222 Fairbanks Ave., between Ninth and 11th streets.