The Hope College Alumni Association will honor two alumni during the annual Alumni Banquet on Saturday, April 27.
The association will present Distinguished Alumni Awards to Jim McFarlin, a 1974 graduate who is an author and freelance journalist with extensive newspaper and media-relations experience, and Dr. Douglas Van Wieren, a 1988 graduate who is a site-reliability engineer with Google and has served in a variety of roles in both industry and higher education.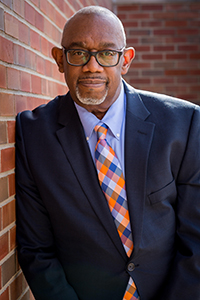 McFarlin graduated from Hope with a communication major and theater minor, and began his career as a reporter, popular music critic and media columnist with The Grand Rapids Press for five years.
After winning an Associated Press award as an investigative reporter for The Flint Journal, he worked at The Detroit News from 1979 to 1995, serving as pop music critic, radio columnist and eventually the paper's television critic. He was one of the first people of color in America to cover contemporary music for a major daily newspaper, and one of the first African Americans to cover television for a mainstream media outlet.
McFarlin created the "Big Mac Awards" to recognize excellence in Detroit radio, which became a coveted industry honor during his 16 years at the News. After leaving newspapers, he worked as a radio and television host and voice talent, and spent five years as editorial supervisor at Campbell-Ewald Advertising. There, he led a staff of writers and editors that created custom publications for clients such as General Motors, Farmers Insurance and Pier One, sharing two awards for creative excellence in the process.
Most recently, McFarlin has pursued a variety of projects as a freelance writer. His work has appeared in publications such as People, Life, USA Today, Electronic Media, Black Enterprise, Men's Book Chicago and Drive, the national Subaru owner's magazine. A screenplay he co-authored, "The Brewster Project," was made into an independent film that won Audience Choice awards in New York and Los Angeles.
He has launched five magazines and has written or edited more than a dozen books. His latest, "The Booster: How Ed Martin, The Fab Five and the Ballers from the 'hood Exposed the Hypocrisy of a Billion-Dollar Industry," ghostwritten for Carl Martin, was published in May 2018. He also maintains two blogs, the award-winning "JK — Just Kidneying," chronicling his experience as a kidney transplant recipient and advocate for renal awareness and organ donation; and "Big Glowing Box," continuing his interest in pop-culture criticism and commentary.
McFarlin was a member of the Hope College Alumni Association Board of Directors from 2008 to 2014. Among his other involvement with the college through the years, he has spoken with communication and journalism classes, emceed reunion events for the Class of 1974, and is a contributing writer for News from Hope College and the research journal Spera.
Originally from Spring Lake and now residing in Champaign, Illinois, McFarlin is active in his church and serves as an ordained wedding officiant. The onetime ESRD (End-Stage Renal Disease) patient representative for the state of Illinois, he is active in a wide range of kidney and transplant focused organizations statewide and nationally, and won the 2011 Robert Felter Memorial Award from The Renal Network Inc. for his communication efforts on behalf of kidney patients.
His family includes his wife, Karen; and son, Jordan Mayberry.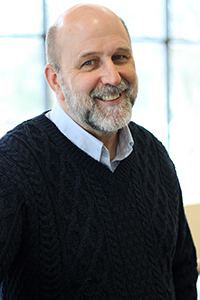 Van Wieren, who is from Holland but currently located in Silicon Valley, California, graduated from Hope with majors in mathematics and computer science. He completed a doctorate in computer science and electrical engineering at the University of Michigan in 1998.
He was the founding dean of the Sarajevo School of Science and Technology in Bosnia, a private, English-language university which opened in 2004 and is in partnership with the University of Buckingham in England. Serving from 2003 to 2006, he was involved in every aspect of the school, including writing the original curricula, recruiting faculty, establishing class schedules, setting up and
maintaining the first computer laboratories.
From 2006 to 2009 he was a research fellow at Harvard University, where he was a member of a group in the Division of Engineering and Applied Sciences and the Department of Physics focused on enhancing science instruction. The team's work included developing a widely used teaching technique called Peer Instruction, which encourages student participation and interaction in large lecture classes.
Van Wieren was on the faculty of the New York Institute of Technology's campus in Nanjing, Jiangsu, China, from 2009 to 2016. He taught programming courses of all levels, coached academic teams and served in other capacities.
He joined Google in 2017. His work focuses on cloud security and instructing others in assuring the site's reliability.
Van Wieren's community service includes volunteering with Shire House, which is a residential program for young adults within the high-functioning autism spectrum, and serving as a coach and judge with the International Collegiate Programming Competition. In 2015, he received a Friendship Award from China as part of a team of software engineers that developed facial-recognition software for locating lost Chinese children.
His family includes his wife, Karen; sons, Shaun Carter and Jason Lareau; and daughters, Annissa Van Wieren and Esme Van Wieren.
The banquet will take place at 6 p.m. at the Haworth Inn and Conference Center. Additional activities during the weekend will include reunion events for the classes of 1969, 1974, 1979, 1984 and 1989, and for the Fifty-Year Circle, which consists of graduates of 50 years ago and longer. More information about the banquet and other Alumni Weekend events is available online.
The Haworth Inn and Conference Center is located at 225 College Ave., between Ninth and 10th streets.