A grant from the Michigan Masonic Charitable Foundation (MMCF) will help high school students from two groups that are traditionally underrepresented in the health professions gain experience and enthusiasm for careers in the fields through hands-on science camps and workshops at Hope College this summer.
The $25,000 award through the foundation's Masonry's B.E.S.T [Build. Enrich. Strengthen. Transform] Community Grant program will provide support for 25 African American and Latinx students from West Michigan to participate in week-long, full-day science camps co-sponsored by the college's long-running ExploreHope summer program and Center for Diversity and Inclusion.
"This program will offer an opportunity for students to become more aware of and excited about the vast opportunities available in the health care and other science related fields in ways they realize are within their reach," said Vanessa Greene, who is associate dean of students and director of the Center for Diversity and Inclusion at Hope.
Designed as a college preview within ExploreHope, the initiative will run during June and July, with the students participating in academic camps focused on the health professions, neuroscience or environmental studies. The activities will also include presentations each evening about the college experience and the experience of minorities on campus by current college students, educators and a variety of professionals.
"Participating students will engage in hands-on exploration in health-profession and other science-related disciplines, and receive instruction in the connections between the subjects learned in high school with their application in practice," said Susan Ipri Brown, who is director of ExploreHope and an instructor of engineering at the college. "Our goal is also to provide the students with positive role models and effective techniques to help them finish high school with a set of college-ready courses, study skills and motivation to excel in college."
"ExploreHope College Preview" complements the college's partnership with the Grand Rapids African American Health Institute (GRAAHI) and six other colleges and universities in "Pathways to Careers in Healthcare" to reduce racial disparities in health care employment. Announced in June 2018, "Pathways to Careers in Healthcare" has three overarching goals: that diversity in health care professions will mirror diversity in the community by 2040, to establish a cadre of African American and Latinx health care leaders in West Michigan, and to establish early exposure to advance health care practice careers throughout the K-12 experience.
The initiative will work with high schools in the Holland area, Muskegon area and Grand Rapids in the coming months to identify current sophomores and juniors for the program. The students will participate in one of three camps in June or July: "Nursing, Health Professions and Human Performance" (June 22-26); "Invasive Species Research Experience" (July 13-17); or "Watershed Restoration" and "Neuroscience" (July 20-24).
In addition to helping underwrite the camps, the MMCF grant will fully fund the students' participation, including not only tuition for the camps but daily transportation to and from the college, and lunch and dinner each day. Holland's Masonic Unity Lodge #191 will also be directly involved in the program, with lodge members who are area professionals providing mentorship through the summer evening programming and two follow-up gatherings during the coming school year.
Hope has been presenting summer science camps for children since 1997. Growing from two camps in the first year, the program now annually features about 50 camps featuring a variety of themes for students from kindergarten through 12th grade, with approximately 1,000 attending each year. The camps are led by Hope students who are preparing to become K-12 teachers, making the camps a learning experience not only for the children who are attending but for the college's education students.
---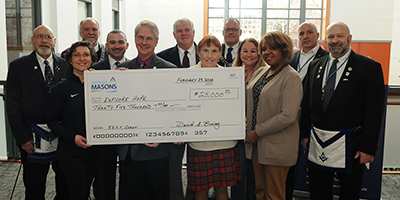 Representing Hope, from left to right flanking the check, are Susan Ipri Brown and Vanessa Greene. Representing the Masonic organizations are, from left to right: Dick Hartman, A.J. Pierce, Omar Flores, Walt Wheeler, Mark Manning, Linda Manning, Richard Haw, Patty Haw, Ray Smith and Joe Hysell.