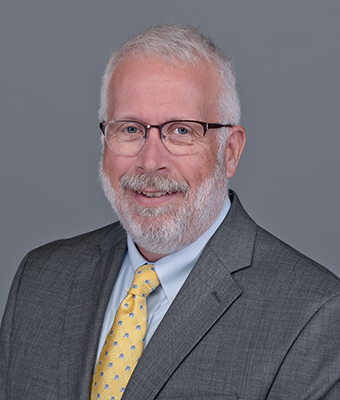 Dr. R. Richard Ray of the Hope College faculty has earned the capstone honor presented by National Athletic Trainers' Association (NATA) in recognition of his transformational leadership and service across four decades in the athletic training profession.
He has been named the 2020 recipient of NATA's Eve Becker-Doyle Leadership Award, which is the top recognition given to a NATA member who has belonged for at least 40 years for outstanding leadership and volunteerism within the association. Ray, who joined NATA in 1975 as an undergraduate student at the University of Michigan, previously received the comparable honor for members of at least 25 years — Hall of Fame recognition — in 2006.
"The Eve Becker-Doyle Award is the highest honor presented to a NATA member for a lifetime of service and leadership," said Dr. Kirk Brumels, a professor of kinesiology and athletic trainer who — as a 1988 Hope graduate — is one of Ray's former students. "Rich has spent much time over his career advancing the profession of athletic training in the public sector as well as academia. His leadership on transitioning athletic training education and past/present service on multiple committees at the state, regional and national level have left an indelible mark on the profession. Much of what athletic training is today is owed to the work, leadership and vision of our trusted and valued friend."
"While Rich would be the first to say that none of the improvements and advances within the athletic training profession occurred without the support and work of others, I would argue that none of them would have occurred without his leadership and vision," Brumels said. "This is a very well deserved award to complement his NATA Hall of Fame status."
Ray has been a member of the Hope faculty since 1982. For several years, he was the college's head athletic trainer, and he developed Hope's academic program in athletic training at Hope, which under his leadership grew into a full major. Hope was one of the first Michigan colleges to have its athletic training program accredited by the Commission on Accreditation of Allied Health Education Programs (CAAHEP).
Among other service to the college, he was also provost (the chief academic officer) from 2010 to 2016, dean for the social sciences from 2008 to 2010, and chair of the Department of Kinesiology from 2003 to 2008. He also led the college's successful effort to seek re-accreditation in 2004 by The Higher Learning Commission.
Ray has been extensively involved in the discipline of athletic training at the regional and national level. Since 2011, he has served on the board of directors of the NATA Research and Education Foundation, which offers grants for scholarly work in the field. He co-chaired NATA's Education Task Force, was president of the Great Lakes Athletic Trainers' Association (GLATA) from 1990 to 1992, and is also a member and former president of the Michigan Athletic Trainers' Society. He is former editor of the professional journal Athletic Therapy Today and served as associate editor of the Journal of Athletic Training.
He has received multiple other honors through the years in recognition of his service to his profession and teaching. In March 2010, he received the Golden Pinnacle Award from GLATA. GLATA had previously presented him with an "Outstanding Educator Award" in March 2004 and a "Distinguished Service Award" in March 2002.
In June 2001, he received the "Sayers 'Bud' Miller Distinguished Educator Award" from NATA. In May of 1999, he was inducted into the Hall of Fame by the Michigan Athletic Trainers' Society, which had presented him with its "Distinguished Athletic Trainer Award" in 1995. In 2014 he was one of only 18 senior academic administrators in higher education nationwide selected by the Council of Independent Colleges to participate in the Colloquium on Leadership for Chief Academic Officers, and in September 2009 he received the Career Achievement Award from the Kinesiology Alumni Society of the University of Michigan.
Ray has a wide range of research interests, and has received several grants to support his work. He is the editor or author of the books "Management Strategies in Athletic Training," currently in its fifth edition, "Counseling in Sports Medicine" and "Case Studies in Athletic Training Administration," all published by Human Kinetics. He has written numerous articles in scientific publications, and has presented papers at professional conferences.
Ray is a 1979 graduate of the University of Michigan and completed his master's and doctorate from Western Michigan University in 1980 and 1990 respectively.
NATA is the professional membership association for certified athletic trainers and others who support the athletic training profession. Founded in 1950, NATA has grown to more than 45,000 members worldwide today.
Ray and the winners of this year's other national awards will be honored during NATA's national convention next summer in Orlando, Florida, which will run June 29-July 2, 2021. The ceremony has been postponed because this year's convention was shifted to a virtual format due to the COVID-19 pandemic instead of taking place in Atlanta, Georgia, in June as originally planned.