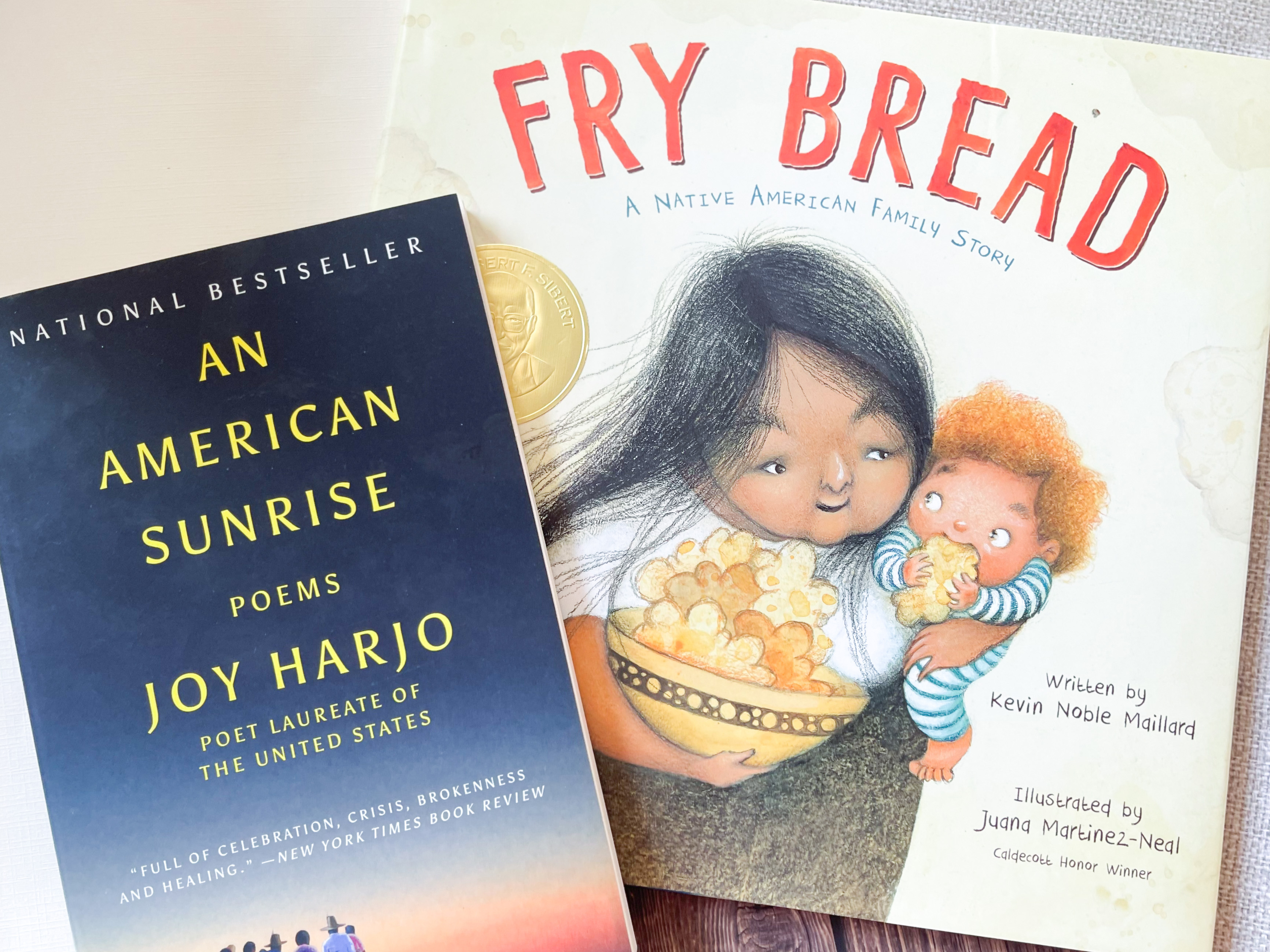 The NEA Big Read Lakeshore, organized by Hope College, is the recipient of an eighth consecutive grant from the National Endowment of the Arts. The program will highlight poetry and Native American History this November.
This year, the Big Read Lakeshore will concentrate on Poet Laureate Joy Harjo's "An American Sunrise," a collection of poems that traverses the homeland from which her ancestors were uprooted in 1830 as a result of the Indian Removal Act. A Writer of the Muskogee (Creek) Nation, Harjo celebrates her ancestors and reminds the reader to remember the past. The Little Read Lakeshore accompaniment for children will feature the picture book "Fry Bread," written by Kevin Noble Maillard and illustrated by Juana Martinze Neal.
The NEA Big Read Lakeshore has received $20,000 from the NEA, one of 84 grants announced on Wednesday, June 9. The Little Read Lakeshore has received $15,000 from Michigan Humanities, one of 17 grants to be announced earlier this summer.
"I'm elated to announce that we've received NEA and NEH grants again this year. As our program has grown over the last eight years, each year, I am more excited for our community to participate," said Dr. Deborah Van Duinen, who is director of both the Big Read and Little Read and an associate professor of English education at Hope. "Each year we learn so much as we listen to and learn from each other while encountering important stories together."
NEA Big Read is an initiative of the National Endowment for the Arts in partnership with Arts Midwest that seeks to broaden understanding of the world, community and self through the joy of sharing a good book. NEA Big Read showcases a diverse range of contemporary titles that reflect many different voices and perspectives, aiming to inspire conversation and discovery.
The Humanities Grants from Michigan Humanities award up to $15,000 per project to Michigan nonprofits doing work to support cultural, educational and community-based public programming with a humanities element.
The NEA Big Read Lakeshore and Little Read Lakeshore are Hope College programs that are presented in collaboration with 50 community partners including lakeshore libraries, non-profits, businesses, school districts and academic institutions. The program puts on numerous events each November, using a specific book as a "springboard" for discussion and learning. More than 12,000 people participated last year. The NEA Big Read Lakeshore has received NEA Big Read support during each of the program's eight years, for a total of $126,500. The Little Read Lakeshore, which began in 2017, has received Michigan Humanities grants throughout the past three years, for a total of $45,000.
Writer, musician, and current Poet Laureate of the United States, Joy Harjo was born in Tulsa, Oklahoma, and is a member of the Muscogee (Creek) Nation. "An American Sunrise" — her eighth collection of poems — revisits the homeland from which her ancestors were uprooted in 1830 as a result of the Indian Removal Act. It is a "profound, brilliantly conceived song cycle, celebrating ancestors, present and future generations, historic endurance and fresh beginnings," wrote critic Jane Ciabattari. "Rich and deeply engaging, "An American Sunrise" creates bridges of understanding while reminding readers to face and remember the past" (Washington Post).
Harjo's many awards include a Lifetime Achievement Award from the Native Writers' Circle of the Americas; the William Carlos Williams Award from the Poetry Society of America; the Wallace Stevens Award from the Academy of American Poets; and two National Endowment for the Arts Creative Writing Fellowships. Joy Harjo previously visited Hope College in the fall of 1993 and spring of 2012 through the college's Jack Ridl Visiting Writers Series.
"While the Big Read has not yet focused on poetry, I'm excited for the Lakeshore to be immersed in Joy Harjo's beautiful verse and the history it tells," Van Duinen said. "Harjo's poems encourage us to contemplate whose histories are told and whose are silenced, and why we must learn about history and culture. They also remind us of the ways reading poetry can lead to greater empathy and understanding."
Debut author Kevin Noble Maillard's "Fry Bread" is an evocative depiction of a modern Native American family. Told in verse, Maillard's book captures the complex Native American identity and shared tradition through beautiful illustrations by Pura Belpre Award winner and Caldecott Honoree Juana Martinez-Neal. "Fry Bread" celebrates warm food, but also the similarities and differences of nation.
Author events for the programs will include: Joy Harjo, Kevin Maillard, and Cynthia Leitch Smith. Specific event details will be released in August.
The Big Read Lakeshore encourages book clubs interested in reading any of the chosen titles to sign up on the program's website. Book discussion material and information on how to get involved are also available on the website, bigreadlakeshore.com.
In addition to Hope, the NEA Big Read Lakeshore's community partners include the Allegan District Library, Allendale Township Library, Alliance for Cultural and Ethnic Harmony, the City of Holland, CultureWorks, Fellowship Reformed Church, the Fennville District Library, the Gary Byker Library of Hudsonville, the Georgetown District Library, the Herrick District Library, the Holland Museum, the Holland-Hope College Sustainability Institute, the Howard Miller Public Library, the Loutit District Library, the Ottawa Area Intermediate School District, the Outdoor Discovery Center, the Patmos Library, Ready for School, the Saugatuck Center for the Arts, the Saugatuck-Douglas District Library, the Spring Lake District Library, Western Theological Seminary, the Woman's Literary Club and many individual area residents.
Hope and the other participating organizations will match the NEA grant with additional financial and in-kind support, but committee members will also be contacting businesses and individuals in the area for sponsorships of book discussions and main events.
Since 2006, the National Endowment for the Arts has funded more than 1,600 NEA Big Read programs, providing more than $22 million to organizations nationwide. Over the past 13 years, grantees have leveraged more than $50 million in local funding to support their NEA Big Read programs. More than 5.7 million Americans have attended an NEA Big Read event, approximately 91,000 volunteers have participated at the local level, and 39,000 community organizations have partnered to make NEA Big Read activities possible. More information about the NEA Big Read, including book and author information, podcasts, and videos, is available at arts.gov/neabigread.
Established by Congress in 1965, the National Endowment for the Arts is the independent federal agency whose funding and support gives Americans the opportunity to participate in the arts, exercise their imaginations, and develop their creative capacities. Through partnerships with state arts agencies, local leaders, other federal agencies, and the philanthropic sector, the Arts Endowment supports arts learning, affirms and celebrates America's rich and diverse cultural heritage, and extends its work to promote equal access to the arts in every community across America. More information is available at arts.gov.
Arts Midwest promotes creativity, nurtures cultural leadership, and engages people in meaningful arts experiences, bringing vitality to Midwest communities and enriching people's lives. Based in Minneapolis, Arts Midwest connects the arts to audiences throughout the nine-state region of Illinois, Indiana, Iowa, Michigan, Minnesota, North Dakota, Ohio, South Dakota, and Wisconsin. Arts Midwest is one of six non-profit regional arts organizations in the United States, and its history spans more than 35 years. More information is available at artsmidwest.org.
As one of 56 state (and territories) humanities councils in the country, Michigan Humanities was founded in 1974 as a result of federal legislation. An affiliate of the National Endowment for the Humanities, Michigan Humanities also actively seeks grants, sponsorships and individual donations to further support cultural programming for Michigan communities. More information is available at michiganhumanities.org.
Created in 1965 as an independent federal agency, the National Endowment for the Humanities supports research and learning in history, literature, philosophy and other areas of the humanities by funding selected, peer-reviewed proposals from around the nation. More information is available at neh.gov.