The Saint Benedict Institute will host authors Eleanor Bourg Nicholson and Rhonda Ortiz for a talk titled "Werewolves and Fainting Damsels: The Genius and Challenges of Genre Fiction" on Thursday, Oct. 21, at 7 p.m. at Hope College in Winants Auditorium in Graves Hall.
The public is invited. Admission is free.
Due to Hope College's COVID precautions, masks are required indoors on campus for all individuals who are vaccinated or unvaccinated. A video recording of the event will be made available online afterward on the Saint Benedict Institute website.
When we first encounter a book, its genre raises certain expectations for what we, as readers, will find within the pages. In this talk, two authors pull back the creative curtain to show how novelists negotiate the complicated network of tropes and conventions that operate within the realm of popular genre fiction. Hear from two practitioners what rules are to be observed, what rules are to be broken, and how genre and imagination combine to create a vivid narrative. Books will be available for purchase at the event, and the authors will be available for book signing.
In addition to scholarly pursuits, Eleanor Bourg Nicholson occasionally strays into fiction, including her epistolary novella, "The Letters of Magdalen Montague," and her Gothic novels, "A Bloody Habit" and "Brother Wolf." Eleanor is the resident Victorian literature instructor at Homeschool Connections and with her husband homeschools their children. By night, she reads, writes and cares for feral offspring. Visit her at eleanorbourgnicholson.com.
Rhonda Ortiz is a Lay Dominican, novelist, nonfiction writer and founding editor of Chrism Press. "In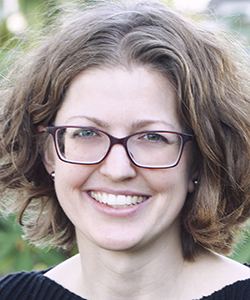 Pieces," the first novel of her Molly Chase series, received two awards, including the competitive ACFW Genesis Award. A native Oregonian, she attended St. John's College in historic Annapolis, Maryland, and now lives in Michigan with her husband and children. Find her online at rhondaortiz.com.
This event is co-sponsored by the Corpus Christi Foundation and the college's Department of Religion.
The Saint Benedict Institute is a ministry of St. Francis de Sales Catholic Church in Holland. It seeks to promote and nurture intellectual work done from the heart of the Catholic Church, to foster an ecumenical community of Catholic Christians and friends committed to the renewal of culture, and to aid in the formation of intellectually and spiritually mature Christians by making available the riches of the Catholic tradition to Hope College and the wider community. More information can be found at saintbenedictinstitute.org
Audience members who need assistance to fully enjoy any event at Hope are encouraged to contact the college's Events and Conferences Office by emailing events@hope.edu or calling 616-395-7222 on weekdays between 9 a.m. and 5 p.m. Updates related to events are posted when available in the individual listings at hope.edu/calendar
Due to the ongoing global COVID-19 pandemic, Hope is currently requiring that masks be worn by all individuals while indoors on campus unless in their living space or alone in their work space.
Graves Hall is located at 263 College Ave., between 10th and 13th streets.