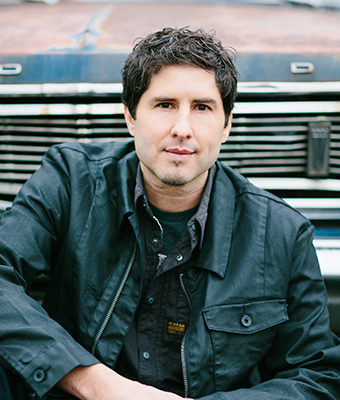 Author Matt de la Peña, who has two books featured in this year's Little Read Lakeshore for children, will deliver a keynote address about the transformative nature of literature and the power of education on Wednesday, Nov. 9, at 7 p.m. at Hope College in the Concert Hall of the Jack H. Miller Center for Musical Arts.
The public is invited. Admission is free.
de la Peña is the New York Times Bestselling, Newbery Medal-winning author of seven young adult novels and six picture books. In 2016 he was awarded the NCTE Intellectual Freedom Award. This year's Little Read is featuring his children's picture book "Last Stop on Market Street," which is illustrated by Christian Robinson; and, for middle readers, his young-adult novel "Superman: Dawnbreaker."
The address will include discussion of his books, but will center around his journey from reluctant reader to author. "I didn't fall for books until I was in college — I got there on a basketball scholarship — but once I did, it changed my life," he has said. The Nov. 9 event will also feature a live performance by the college's StrikeTime Dance Theatre based on "Last Stop on Market Street."
"We're thrilled to have Matt de la Peña visit our Hope College campus and Lakeshore community," said Dr. Deborah Van Duinen, who is the Arnold and Esther Sonneveldt Associate Professor of English Education at Hope College and Director of the Big and Little Read programs. "This year our program explores what it means to be a hero across different times, places, and cultures and we love the ways that 'Last Stop on Market Street' encourages all of us to be everyday heroes in our own communities, recognizing the good and beautiful and hopeful things around us."
de la Peña received his MFA in creative writing from San Diego State University and his BA from the University of the Pacific. In 2019, he was given an honorary doctorate from UOP. He currently lives in Southern California. He teaches creative writing and visits schools and colleges throughout the country.
He and StrikeTime Dance Theatre, which is an affiliate of the college's Department of Dance, will also be making a presentation for 750 area students earlier in the day on Nov. 9. In addition, de la Peña will be in Muskegon on Thursday, Nov. 10, for a school-oriented event in the morning that will be attended by more than 800 second graders, and a public presentation at 7 p.m. at the Frauenthal Center.
More than 100 events are being presented throughout the West Michigan Lakeshore in conjunction with the NEA Big Read and Little Read Lakeshore during the latter half of October and the month of November. This year, the community-wide programs are exploring Greek mythology, the Hero's Journey, and untold stories through the lives of characters ranging from an ancient mythological enchantress-goddess to a modern child and well-known superheroes.
In addition to de la Peña's books, this year's Little Read includes three other books for middle readers: Homer's "The Odyssey"; "Miles Morales: Spider-Man," by Jason Reynolds; and "Zita the Spacegirl," by Ben Hatke. The NEA Big Read Lakeshore is focusing on "Circe," by Madeline Miller. More information, including a complete schedule of events, is available at bigreadlakeshore.com
The NEA Big Read is a program of the National Endowment for the Arts in partnership with Arts Midwest, and the Little Read Lakeshore is made possible in part by a grant from the Michigan Humanities. The two programs were named the Statewide Community Impact Partner of the Year for 2021 by Michigan Humanities in May.
Both the NEA Big Read and the Little Read Lakeshore are organized by Hope College with community partners throughout West Michigan. The Nov. 9 evening presentation is co-sponsored by Gentex, Lakewood Construction and West MI Pediatric Dentistry, and the Nov. 9 morning event is being presented in partnership with Ready for School.
Audience members who need assistance to fully enjoy any event at Hope are encouraged to contact the college's Events and Conferences Office by emailing events@hope.edu or calling 616-395-7222 on weekdays between 9 a.m. and 5 p.m. Updates related to events are posted when available in the individual listings at hope.edu/calendar
The Jack H. Miller Center for Musical Arts is located at 221 Columbia Ave., between Ninth and 10th streets. Herrick District Library is located at 300 S. River Ave., between 12th and 13th streets.