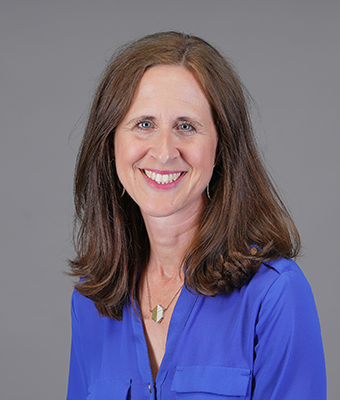 A new book co-authored by Dr. Deborah Vriend Van Duinen of the Hope College education faculty is designed to help middle school and high school teachers enrich students' learning by exploring themes of spirituality in young adult literature.
"Young Adult Literature: How to Unlock Deeper Understanding with Class Discussion" was published this fall by Rowman & Littlefield Publishers. Van Duinen, who is the Arnold and Esther Sonneveldt Associate Professor of Education and founding director of the NEA Big Read Lakeshore and Little Read Lakeshore, wrote the book with Dr. William Boerman-Cornell of Trinity Christian College; and Dr. Xu Bian and Dr. Kristine Alatheia Mensonides Gritter, both of Seattle Pacific University. Gary Schmidt, best-selling author of children's literature and young adult fiction, wrote the book's foreward.
"In most discussions or studies of young adult literature, questions about faith and spirituality are noticeably absent. In addition, many young adult authors and publishers avoid these this topics" Van Duinen said.
"For many teens, their religious identities and faith commitments deeply matter to them. This needs to be reflected in young adult literature as well as in the research and scholarship surrounding it. My co-authors and I wanted to respond to this gap by offering interpretations of and engagment with YAL that acnowledges, addresses, and celebrates spiritual experiences and faith traditions."
Van Duinen writes and teaches in the area of English education, adolescent literacy and young adult literature, and emphasizes inquiry-based teaching and reflective practices in her mentorship of preservice teachers. She and her co-authors started their work together in 2015, when she received a Christian Scholars Foundation/InterVarsity's Emerging Scholars Network grant.
She explained that the four of them were drawn to stories in which characters search for meaning beyond themselves through a variety of emotions and experiences. Their book explores how young adult novels might operate as prayers of lament, yearning, anger, confession, thankfulness, reconciliation, joy, obedience, pilgrimage, contemplation and equanimity — whether or not the story explicitly connects to a faith tradition. It also offers a variety of ways for middle and high school teachers and book club leaders, but also any reader, to approach and discuss literature.
"Young Adult Literature and Spirituality" focuses on 13 young adult novels — including a pair of graphic novels — and frames them as different kinds of prayers. Along with its introductory and closing chapters, the book explores "Internment," "The Hate U Give," "Speak," "Long Way Down," "Goodbye Days," "The War that Saved My Life," "The Poet X," "Louisiana's Way Home," "Orbiting Jupiter," "Beast Player," "Where the Mountain Meets the Moon," "The Fault in Our Stars" and "The Inquisitor's Tale."
Given the wealth of young adult novels to choose from — Van Duinen admits that it was difficult to decide on just 13 — she and her colleagues have also included a list of other young adult novels that they feel could be used just as readily. "We chose the books we did because they are often used in middle school and high school classes across the country," she said. "They are also books that many children across the country are reading on their own."
Van Duinen explained that she and her colleagues put their larger questions and interests about spirituality and young adult literature in conversation with the work of two other scholars: the book "Movies are Prayers – How Films Voice Our Deepest Longings," by Josh Larsen; and the podcast "Harry Potter and the Sacred Text," by Vanessa Zoltan and Casper ter Kuile.
"Josh Larsen, a film critic, argues that audiences could consider the way movie directors engage audiences with films as a series of different types of prayers, regardless of the director's original intent," she said.
"Vanessa Zoltan and Casper ter Kuile discuss the Harry Potter series using sacred text approaches such as Lectio Divina, Havruta, and Florilegium, that have been used by rabbis, scholars, priests, imams and pastors for well over 2,000 years," Van Duinen said. "Though there are many variations of these approaches, a commonality was the idea of grounding a discussion in a small passage from the book. In looking at a smaller part of a sacred text, one can often see the echoes or seeds of much larger themes and ideas that run through the whole book. We loved hearing the ways Zoltan and ter Kuile did this on their podcast. We wanted to apply these same approaches to the ways young adult novels could be considered and discussed as different kinds of prayers."
Van Duinen joined the Hope faculty in 2010 and was appointed to her endowed professorship in 2021. In 2016, she received the Michigan Reading Association's Individual Literacy Award for her leadership with the Big Read and with English education. This past May, the Big Read and Little Read were named the Statewide Community Impact Partner of the Year for 2021 by Michigan Humanities. The NEA Big Read Lakeshore has received a grant from the national NEA Big Read every year since 2014, and the Little Read Lakeshore has received a grant from Michigan Humanities every year since 2019.
Van Duinen frequently collaborates with English education students and area English high school teachers on research projects and conference presentations. Her current research project, "Supporting PK-5 Students' Bilingual Learning and Development Through Translating Pedagogies," is a year-long professional development opportunity for 25 pre-kindergarten through fifth-grade teachers in the Holland area. The program, which she is leading with Hope education colleague Dr. Mihyun Han in cooperation with the local schools, is supported through a sub-grant from the "There's No Place Like Home: The Andrew W. Mellon Foundation Community-Based Partnerships Presidential Initiative of Hope College and Holland, Michigan." She is also working on a book on Adolescent Literacy with Dr. Erica R. Hamilton of Grand Valley State University.
Van Duinen has been on the board of editors for Reformed Journal since 2012 and serves on the boards of Ready for School and Opportunity Thrive. She is also a member of the Michigan Council of Teachers of English Executive Committee.
At Hope, she directs the Senior Seminar program, leads the secondary education program in the Department of Education and, for the past two years, has been the faculty moderator. In 2013, Hope presented her with its Towsley Research Scholar award. In 2022, she received a Culture Champion award from Hope, and this past August was the invited featured speaker during the college's Opening Convocation.
A 1998 graduate of Calvin University, Van Duinen taught high school English before pursuing her master's at Calvin and her doctorate at Michigan State University.
"Young Adult Literature and Spirituality: How to Unlock Deeper Understanding with Class Discussion" is available through bookstores, the publisher or Amazon.