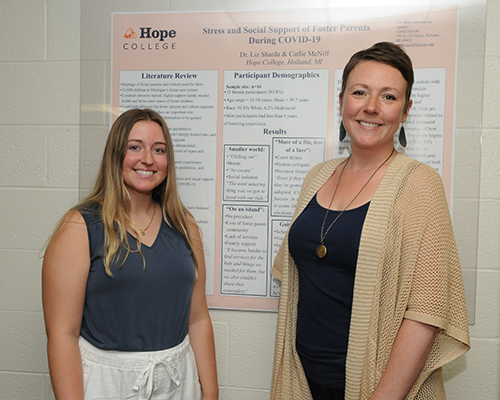 A collaborative faculty-student research project that studied stress and social support of foster parents during the COVID-19 pandemic has won Hope College's annual Social Sciences Young Investigators Award.
The team consisted of Dr. Elizabeth Sharda, assistant professor of social work, and Hope student Carlie McNiff, who graduated from the college in May with a social work major and will be pursuing a Master of Social Work degree at the University of Michigan.
The study used interviews to collect the firsthand experiences of licensed foster parents in Michigan. With stressors increased and supports strained, common themes included increased difficulty with aspects of life turning virtual or stopping — such as visits by biological parents, school and child-related services. At the same time, foster parents also reported that the reduction in external activity also provided more bonding time.
The research continued a long-standing interest for Sharda. She has focused on stress, retention and social support among licensed foster parents for several years, including for the dissertation for her Ph.D. in social work, which she earned from Michigan State University in 2020. As she and McNiff explain in their abstract for their study, "Foster parents provide critical care to hundreds of thousands of children in the U.S., and with their role come a variety of challenges. They face a great amount of stress, which is why the turnover rate is high, and there is a critical need for more foster parents."
"Uncertainty is a large component of the foster care system, and the COVID-19 pandemic heightened this," they continue. "Findings from the study have multiple implications for those who interact with the foster care system, such as more support resources for returning to or finding services in a pandemic and the need for therapy after such a traumatic time."
Sharda has been a member of the Hope faculty since 2017. She teaches Interventions III, Child Welfare, Practice with Diverse Populations and Introduction to Social Work and supervises senior social work students in field placements, in addition to mentoring students through involvement in her research.
She has practiced for more than 10 years in the social work field in a variety of roles and at a variety of practice levels, including residential treatment, foster care, trauma treatment, program development and trauma-informed system change. She continues to train child welfare professionals and parents on child trauma, secondary trauma and self- and community-care.
Sharda graduated from Hope in 2002 with majors in social work and political science, and completed a Master of Social Work degree at Grand Valley State University in 2006.
The Social Sciences Young Investigators Award is designed to recognize and encourage pre-tenured faculty to partner with students in research collaborations that further the scholarship goals of the faculty member while developing the skills of critical inquiry and analysis in students. The competition is open to pre-tenured social science faculty who worked with students on a significant research project. The selection is made from among the eligible social science projects highlighted during the college's annual Celebration of Undergraduate Research and Creative Activity, which was held on Friday, April 22, this year.