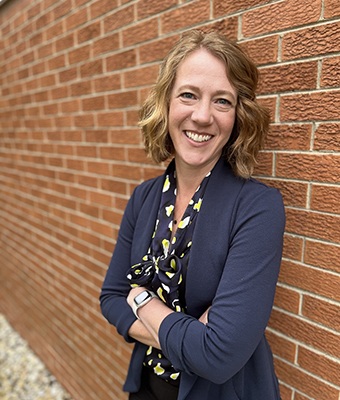 Hope College's new dean of students will arrive later this summer equipped with two decades of leadership experience in higher education and a deep appreciation of the impact of a liberal arts education in the context of the Christian faith.
Becky Starkenburg, who is currently vice president for student life and Title IX coordinator at Trinity Christian College in Palos Heights, Illinois, was chosen following a national search and will join the Hope staff on August 1. She succeeds Dr. Richard Frost, who is retiring as vice president for student development and dean of students after serving at Hope since 1989.
"Becky brings a passion for students, a heart for Christian liberal arts education and a broad set of experiences spanning more than two decades in various student affairs roles at both small private liberal arts colleges and a large state university," said Hope College President Matthew A. Scogin. "We're pleased to welcome her to our team while thanking Dean Richard Frost for his excellent service to Hope and our students."
Across her career, Starkenburg has had a range of leadership experiences in student development, including in residence life, student leadership, counseling, vocation and career, community engagement, athletics, and diversity, equity and inclusion. With an appreciation for student spiritual formation that includes her own time as an undergraduate at a Christian liberal arts college, she noted that she is looking forward to the opportunity to serve at Hope.
"I am incredibly humbled and excited to be called to join the Hope College community as dean of students," she said. "I am eager to build authentic relationships with the amazing students of Hope College as we create, sustain and cultivate a thriving community in which they will flourish."
"We all sense that we are living in extraordinary times, and for college students this is both daunting and exhilarating," Starkenburg said. "And yet, Hope's story is rooted in a vision of abundance, grace and transformation. It's solid ground on which to stand. I cannot wait to imagine together how the rich Hope legacy will unfold and embrace the diversity of students who will be part of our next chapter together."
As dean of students, Starkenburg will lead the college's Student Development program serving Hope's approximately 3,200 students. The program includes Counseling and Psychological Services, the Health Center, Housing, Residential life and Education, Student Conduct and Student Life.
Starkenburg has been with Trinity Christian College since 2008, initially as director of the First-Year Experience, and since 2013 as vice president and Title IX coordinator. Prior to coming to Trinity Christian College, she was an area coordinator with the University of Virginia in Charlottesville for six years, from 2002 through 2008.
She has written and led grant projects, including a grant from the Association of College and University Housing Officers-International (ACUHO-I) to improve community development in a large university apartment complex, and various grants associated with the Network for Vocation in Undergraduate Education (NetVUE) while at Trinity. She has served on the Council for Christian Colleges and Universities Commission for Senior Student Affairs Officers, including as chair from 2019 to 2020.
Starkenburg completed her master's degree in student affairs administration at Michigan State University in 2002. She earned her undergraduate degree at Northwestern College, which like Hope is affiliated with the Reformed Church in America, graduating with an English major.