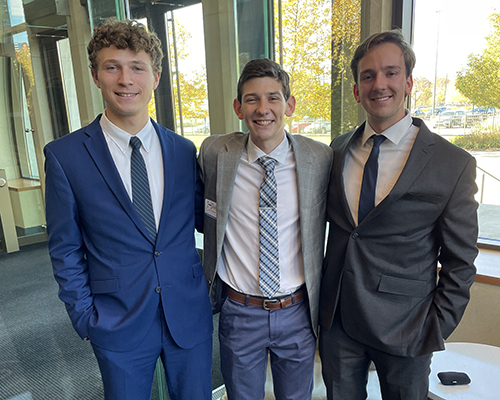 Student teams from Hope College finished first and fourth in the 8th Annual Commercial Lending Competition sponsored by the West Michigan Chapter of the Risk Management Association. The competition was held on Saturday, Oct. 28, at Grand Valley State University's Seidman College of Business.
The banking-focused competition requires students to analyze and make recommendations for a loan committee and borrower. It requires a strong grasp of technical knowledge balanced with the presentation and relational skills that are critical to the banking industry.
A panel of finance professionals, from a wide range of West Michigan firms, evaluate and rank the teams based on their performance.
The students on the first-place team were sophomore Austin Belsan of Lemont, Illinois; junior Nathan Sligh of Holland; and junior Carter Speelman of Holland. The team won a cash prize of $3,500.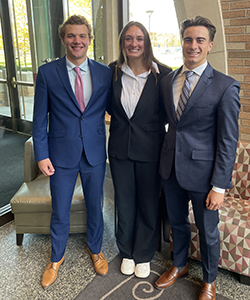 Placing fourth were junior Benjamin Bush of Spring Lake; junior Katie Gray of Grand Rapids; and junior Wyatt Schindeldecker of Prior Lake, Minnesota. The team won a cash prize of $750.
The accomplishment marks yet another strong finish for Hope College economics and business students, who have a long tradition of success in case competitions such as this one. In the same event in 2021, Hope student teams also finished first and fourth. In 2019, Hope students placed second.
This year, a record-number 16 teams registered for the event. Teams are sent by many of the area's colleges and universities, including Central Michigan University, Ferris State University, Grand Valley State University, Western Michigan University and more.
Faculty member Doug Iverson, who has coached the college's case-competition teams for more than eight years, noted that Hope's success when competing against many of these larger universities and business schools stands as a testament to its competitive preparation and liberal arts approach.
"Not only do our students demonstrate understanding of the banking concepts, but their ability to connect with the audience through compelling presentation is remarkable," he said. "Our program and emphasis on fostering community enables them to develop skills in both areas."
The Hope College economics and business program is one of the oldest in the state of Michigan. Boasting a 90-plus-year history, it remains firmly committed to its Christian liberal arts approach. Its major competitively prepares students to succeed in the market, but does not force "over specialization" or premature career decisions. As a result, students have time to explore vocation and calling, connect with the more than 500 professionals and 180 firms who engage in the program each year, and take part in applied experiences such as case competitions.