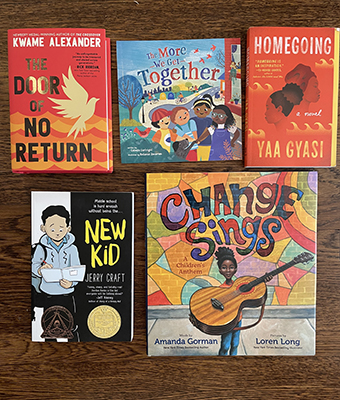 The award-winning, community-wide NEA Big Read Lakeshore organized by Hope College will mark its 10th year with uninterrupted grant support from the nationwide NEA Big Read and an exploration of identity, family, racism and hope.
Running throughout the area from Monday, Oct. 30, through Saturday, Nov. 18, the Big Read Lakeshore will feature "Homegoing," by Ghanaian-American author Yaa Gyasi, and The Little Read Lakeshore for children will feature the picture book "Change Sings: A Children's Anthem," by Amanda Gorman and illustrated by Loren Long. For middle readers, the program will be featuring "The Door of No Return," by Kwame Alexander, and the graphic novel "New Kid," by Jerry Craft. New this year, a Mini Read Lakeshore will feature "The More We Get Together," by Celeste Cortright.
The NEA Big Read Lakeshore has received $20,000 from the National Endowment for the Humanities, and is the only organization in Michigan to receive one of the 62 grants announced by the NEA on Wednesday, June 14. The program has received a grant from the NEA every year since beginning in 2014.
"Our first Big Read program, 10 years ago, featured Harper's Lee 'To Kill a Mockingbird.' One of the reasons we chose 'Homegoing' for this year is because of how it encourages us to explore similar topics and themes but in different ways," said Dr. Deb Van Duinen, who is founding director of Hope College's Big Read and associate professor of English education at Hope. "Our 2023 books offer us the opportunity to reflect on identity and belonging, family and ancestry, racism and resilience, societal change and hope."
NEA Big Read is an initiative of the National Endowment for the Arts in partnership with Arts Midwest that seeks to broaden understanding of world, community and self through the joy of sharing a good book. NEA Big Read showcases a diverse range of contemporary titles that reflect many different voices and perspectives, aiming to inspire conversation and discovery.
Hope College's NEA Big Read Lakeshore and Little Read Lakeshore bring the community together around a common book for a month each fall, using the shared experience of reading, discussing and exploring the themes of the book as a springboard to listen to and learn from each other. Presented in collaboration with 50 community partners including lakeshore libraries, non-profits, businesses, school districts and academic institutions, the programs involve thousands of readers along the Lakeshore each year.
In May 2022, Michigan Humanities named the NEA Big Read Lakeshore and Little Read Lakeshore the Statewide Community Partner of the Year for 2021. Also in 2022, the NEA Big Read Lakeshore expanded its scope and reach to include Muskegon.
This year's program will open with a keynote presentation on Monday, Oct. 30, that will provide historical and cultural context for the books and themes. Additional information about the fall programs will be released in August and available at bigreadlakeshore.com
"Homegoing" is historical fiction that follows several generations of one family starting with the Atlantic Slave Trade in the 1700s and ending in the mid-2000s. Van Duinen said that the characters' journeys as the novel travels through time and place will provide a rich shared starting point for this year's reading-discussion groups and related Big Read presentations. "'Homegoing' explores many powerful themes, including power and privilege, memory and legacy" she said.
Recognition for author Yaa Gyasi and "Homecoming" has included selection in 2016 for the National Book Foundation's "5 under 35" award, the National Book Critic Circle's John Leonard Award for best first book, being longlisted for the Dylan Thomas Prize in 2017, the Hemingway Foundation/PEN Award for 2017, an American Book Award and the Vilcek Prize for Creative Promise in Literature. Van Duinen noted that the book has also generated controversy for its explicit exploration of some events and their impact, and that readers should be prepared for content they may find difficult.
"We know as a society that enslaved people experienced unquestionable brutality, and those atrocities continued throughout our nation's history," she said. "It is important to note that Gyasi fully depicts individual characters' experiences, including sexual assault, physical violence and emotional torment, throughout the novel through the lens of different characters. This content, while historically accurate, may be challenging for some readers."
"The Door of No Return" is the first book in a trilogy written by Newbery Medal- and Coretta Scott King Award-winning author Kwame Alexander. Written in verse, the novel tells the story of an 11-year-old Ghanaian boy, his Asante village, and the epic odyssey of his African family at the time of the Atlantic slave trade.
"New Kid" tells the story of a 12-year-old African American child named Jordan Banks who experiences culture shock when he enrolls at a private school. The book has won the Newbery Medal, Coretta Scott King Author Award and Kirkus Prize for Young Readers' Literature.
"Change Sings: A Children's Anthem" follows a young girl as she leads a cast of characters on a musical journey that helps them to see that together they have the power to make changes — big or small — in the world, their communities and themselves. Gorman is a #1 New York Times bestselling author and presidential inaugural poet, and Long is a #1 New York Times bestselling illustrator.
"The More We Get Together" features a diverse group of children who work together to make their urban neighborhood cleaner, friendlier and safer for everyone. Readers can sing along as the community bicycles and recycles together, volunteers at an assisted living home, participates in a letter-writing campaign and gathers around a potluck meal.
Van Duinen founded the NEA Big Read Lakeshore in 2014 and added the Little Read Lakeshore in 2017. The programs have engaged an estimated 12,000 people annually, including thousands of students from pre-school through college age in Allegan, Allendale, Fennville, Grand Haven, Hamilton, Holland, Hudsonville, Muskegon, Saugatuck-Douglas, Spring Lake and Zeeland.
The NEA Big Read Lakeshore has received NEA Big Read support during each of the program's 10 years, for a total of $145,500. In addition, the Little Read Lakeshore, which began in 2017, received Michigan Humanities grants from 2020 through 2022, for a total of $60,000. This year, Herrick District Library received a $15,000 Michigan Humanities grant to support its involvement with this year's Middle Read program. Hope and the other participating organizations will match the NEA grant with additional financial and in-kind support, but committee members will also be contacting businesses and individuals in the area for sponsorships of book discussions and main events.
The Big Read Lakeshore encourages book clubs interested in reading any of the chosen titles to sign up on the program's website. Book discussion material and information on how to get involved are also available on the website, bigreadlakeshore.com
Since 2006, the National Endowment for the Arts has funded more than 1,600 NEA Big Read programs, providing more than $22 million to organizations nationwide. Over the past 13 years, grantees have leveraged more than $50 million in local funding to support their NEA Big Read programs. More than 5.7 million Americans have attended an NEA Big Read event, approximately 91,000 volunteers have participated at the local level, and 39,000 community organizations have partnered to make NEA Big Read activities possible. More information about the NEA Big Read, including book and author information, podcasts, and videos, is available at arts.gov/neabigread
Established by Congress in 1965, the National Endowment for the Arts is an independent federal agency that is the largest funder of the arts and arts education in communities nationwide and a catalyst of public and private support for the arts. By advancing equitable opportunities for arts participation and practice, the NEA fosters and sustains an environment in which the arts benefit everyone in the United States. The NEA's primary activities include grantmaking to nonprofit arts organizations, public arts agencies and organizations, colleges and universities, federally recognized tribal communities or tribes, and individual writers and translators. More information is available at arts.gov
Arts Midwest supports, informs and celebrates arts organizations and creative communities in Illinois, Indiana, Iowa, Michigan, Minnesota, North Dakota, Ohio, South Dakota, Wisconsin, the Native Nations that share this geography, and beyond. As one of six nonprofit United States Regional Arts Organizations, Arts Midwest works to strengthen local arts and culture efforts in partnership with the National Endowment for the Arts, state agencies, private funders and many others. Since its founding, the organization has awarded more than 6,000 grants totaling nearly $60 million. More information is available at artsmidwest.org