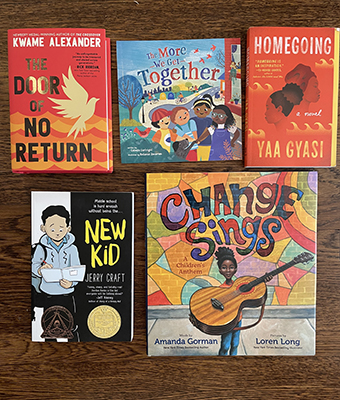 The kick-off keynote celebration for the 10th annual NEA Big Read Lakeshore organized by Hope College will be on Monday, Oct. 30, but discussion groups and a variety of events focused on this year's books and the ideas they explore are already taking place throughout the West Michigan Lakeshore for those who want to get an early start.
Running through Tuesday, Nov. 21, this year's program is considering topics such identity and belonging, family and ancestry, racism and resilience, societal change and hope. The Big Read Lakeshore is featuring "Homegoing," by Ghanaian-American author Yaa Gyasi, and The Little Read Lakeshore for children is featuring the picture book "Change Sings: A Children's Anthem," by Amanda Gorman and illustrated by Loren Long. For middle readers, the program is featuring the graphic novel "New Kid," by Jerry Craft and "The Door of No Return," by Kwame Alexander. New this year, a Mini Read Lakeshore, for children birth-age 5 is featuring "The More We Get Together," by Celeste Cortright.
The program is featuring events for all ages, ranging from exhibitions and concerts, to lectures and book discussions, to outdoor adventures, with more than 120 opportunities from Allegan to Saugatuck to Holland to Jenison to Muskegon and points in between, the first of which began in September.
For additional background and perspective on this year's book selections, please also visit the NEA Big Read blog
"This year we have events in three different counties — Ottawa, Allegan and Muskegon — and have distributed the largest number of books to schools and organizations in our 10-year history," said the events' founding director, Dr. Deborah Van Duinen, who is the Arnold and Esther Sonneveldt Professor of Education at Hope. "There's a lot of excitement this year around our author visits, the new Mini Read program, and the variety, quality, and quantity of events."
The complete schedule is available at bigreadlakeshore.com/events. This year's kickoff and featured author presentations are:
2023 Program Kickoff: "Why Do Stories Matter? Engaging History, Black Identity and Return Migration in Yaa Gyasi's 'Homegoing'"; Monday, Oct. 30, 7 p.m.; Hope College, Maas Center auditorium.

Author Event with Yaa Gyasi; Monday, Nov. 13, 7 p.m.; Hope College, Jack H. Miller Center for Musical Arts, Concert Hall.

Author Events with Jerry Craft: He will present two events open to the public, "Celebrating HOME with Jerry Craft" (Tuesday, Nov. 14, at 7 p.m., Frauenthaul Center in Muskegon) and "An Evening with Jerry Craft" (Wednesday, Nov. 15, at 6 p.m.; Herrick District Library North Branch), and will also be making multiple school visits in Ottawa and Muskegon counties and participating in an event at Hope.
First held in 2014 and 2017, respectively, Hope College's NEA Big Read Lakeshore and Little Read Lakeshore bring the community together around a common book for a month each fall, using the shared experience of reading, discussing and exploring the themes of the book as a springboard to listen to and learn from each other. They are presented in collaboration with 50 community partners including lakeshore libraries, non-profits, businesses, school districts and academic institutions.
The programs have engaged thousands of people annually, including thousands of students from pre-school through college age in Allegan, Allendale, Fennville, Grand Haven, Hamilton, Holland, Hudsonville, Jenison, Muskegon, Saugatuck-Douglas, Spring Lake and Zeeland. In May 2022, Michigan Humanities named the NEA Big Read Lakeshore and Little Read Lakeshore the Statewide Community Partner of the Year for 2021.
The NEA Big Read Lakeshore program is made possible in part by a grant from the NEA Big Read, a program of the National Endowment for the Arts in partnership with Arts Midwest. The NEA Big Read Lakeshore has received NEA Big Read support during each of the program's 10 years, and the Little Read Lakeshore received Michigan Humanities grants from 2020 through 2022. This year, Herrick District Library received a $15,000 Michigan Humanities grant to support its involvement with this year's Middle Read program.