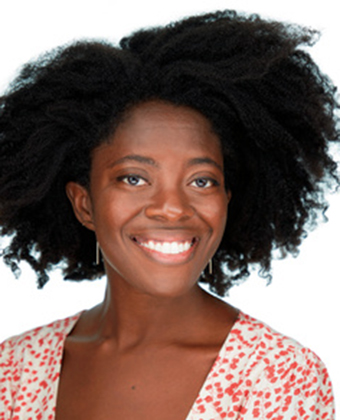 The community-wide NEA Big Read Lakeshore organized by Hope College is presenting keynote events with authors Yaa Gyasi on Monday, Nov. 13, and Jerry Craft on Tuesday and Wednesday, Nov. 14 and 15.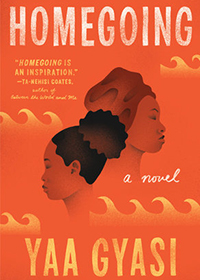 Gyasi will discuss her book "Homegoing," which is the focus of this year's Big Read, on Monday, Nov. 13, at 7 p.m. in the Concert Hall of the Jack H. Miller Center for Musical Arts at Hope. Craft, whose graphic novel "New Kid" is this year's selection for middle-grade readers, will be the featured speaker on Tuesday, Nov. 14, at 7 p.m. at the Frauenthal Center in Muskegon during the Community Foundation for Muskegon County's Annual Gathering; and on Wednesday, Nov. 15, at 6 p.m. at Herrick District Library in Holland.
The public is invited to all three events. Admission is free.
"Homegoing," is historical fiction that follows several generations of one family starting with the Atlantic Slave Trade in the 1700s and ending in the mid-2000s. Recognition for Gyasi and "Homecoming" has included selection in 2016 for the National Book Foundation's "5 under 35" award, the National Book Critic Circle's John Leonard Award for best first book, being longlisted for the Dylan Thomas Prize in 2017, the Hemingway Foundation/PEN Award for 2017, an American Book Award and the Vilcek Prize for Creative Promise in Literature.
The Nov. 13 event will be an on-stage conversation between Gyasi and Dr. Ernest Cole, who is the John Dirk Werkman Professor of English and department chair at Hope. Gyasi, who was born in Ghana and moved to the United States as a child with her family, will reflect on the personal experiences that inspired her to write "Homegoing" and explore the complexities and intersections of African immigrant and African American identities in the United States. Cole, who conducts research into the legacies of slavery and colonialism, was born and raised in Sierra Leone and is descended from former slaves who immigrated to West Africa after being freed from bondage in Europe, North America and the Caribbean.
After the presentation, copies of "Homegoing" will be available for purchase and Gyasi will be available to sign copies of the book.
The event will also be livestreamed at hope.edu/live and via the Hope College YouTube channel. There will be watch parties at Allegan District Library, Georgetown Township Public Library, Loutit District Library, the Muskegon Area District Library (MADL) Administration Offices, Saugatuck-Douglas District Library and White Lake Community Library.
"New Kid" tells the story of a 12-year-old African American child named Jordan Banks who experiences culture shock when he enrolls at a private school. The book has won the Newbery Medal, Coretta Scott King Author Award and Kirkus Prize for Young Readers' Literature.
Craft's evening presentations on Nov. 14 and 15 will share his journey from being a reluctant reader told that comics would rot his brain to creating an award-winning graphic novel. At the end of the two events, copies of "New Kid" will be available for purchase and Craft will be available to sign copies of the book.
Craft will also make presentations for area elementary and middle-grade students while in West Michigan,
including on Nov. 14 at Hope for 800 students from 10 schools; on Nov. 14 at Reeths-Puffer Rocket Centre for the Fine Arts sponsored by the MADL; and on Nov. 15 at West Ottawa's Harbor Lights and Macatawa Bay middle schools.
The Big Read Lakeshore program began in October and continues through the end of November. It is offering 120 events for all ages, ranging from exhibitions and concerts, to lectures and book discussions, to outdoor adventures, with opportunities from Allegan to Saugatuck to Holland to Jenison to Muskegon and points in between.
In addition to "Homegoing" and "New Kid," the program is featuring, through the Little Read Lakeshore, the picture book "Change Sings: A Children's Anthem," by Amanda Gorman and illustrated by Loren Long; "The Door of No Return," by Kwame Alexander for middle readers; and, new this year, a Mini Read Lakeshore, for children birth-age 5 is featuring "The More We Get Together," by Celeste Cortright.
The NEA Big Read Lakeshore program is made possible in part by a grant from the NEA Big Read, a program of the National Endowment for the Arts in partnership with Arts Midwest. The NEA Big Read Lakeshore has received NEA Big Read support during each of the program's 10 years, and the Little Read Lakeshore received Michigan Humanities grants from 2020 through 2022. This year, Herrick District Library received a $15,000 Michigan Humanities grant to support its involvement with this year's Middle Read program.
More information about this year's NEA Big Read Lakeshore and the complete schedule of events is available at bigreadlakeshore.com.
The Jack H. Miller Center for Musical Arts is located on the Hope campus in Holland at 221 Columbia Ave., between Ninth and 10th streets. The Frauenthal Center in Muskegon is located at 425 W. Western Ave., STE 200, at the intersection with 3rd Street. Herrick District Library in Holland is located at 300 S. River Ave., between 12th and 13th streets.