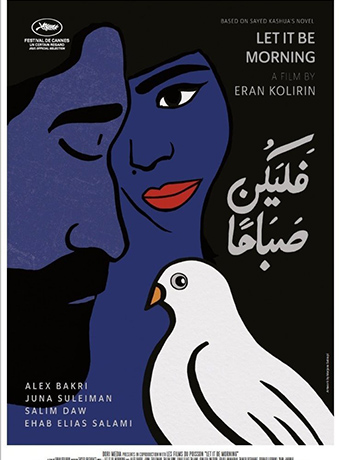 The Hope College Knickerbocker Theatre will be showing the Israeli film "Let it be Morning" on Wednesday-Saturday, Feb. 22-25, at 7:30 p.m.
Written and directed by award-winning Israeli filmmaker Eran Kolirin ("The Band's Visit"), and adapted from the international best-selling novel by Palestinian author Sayed Kashua, "Let It Be Morning" is a film about a state of siege, both internal and external — centered around a man who has built a wall around his heart, and how that inner wall starts coming apart when an actual, real wall goes up around his hometown. The film is not rated, and is in Arabic with English subtitles.
The New York Times has said that "The film builds up an undercurrent of suspense, with the prospect of violence always near. [It] orchestrates the proceedings with confidence and significant subtlety, never letting political diagnoses overwhelm the character."
The just-released film is the official submission of Israel for the Best International Feature Film category of the Academy Awards, and is an "Official Selection" of Cannes Film Festival.
The plot centers around Palestinian-born Israeli citizen, Sami, who is living in Jerusalem when he receives an invitation to his brother's wedding, forcing him to return to the Arab village where he grew up. After the wedding finishes, with no explanation, Sami's hometown is put under a military blockade lockdown by Israeli soldiers. When chaos erupts overnight amongst the villagers stuck behind the wall due to the blockade, Sami is cut off from the outside world and trapped in an unexpected situation. As he deals with questions about his own identity and hidden secrets are revealed, Sami watches everything he holds dear begin to fall apart.
Tickets are $7 for regular admission; $6 for senior citizens, Hope College faculty and staff, and children; and free for Hope College students. Tickets will be sold at the door.
The series will continue with "Full Time" on March 8-11 and "The Lost King" on April 12-15.
Audience members who need assistance to fully enjoy any event at Hope are encouraged to contact the college's Events and Conferences Office by emailing events@hope.edu or calling 616-395-7222 on weekdays between 9 a.m. and 5 p.m. Updates related to events are posted when available in the individual listings at hope.edu/calendar
The Knickerbocker Theatre is located in downtown Holland at 86 E. Eighth St. between College and Columbia avenues.