Baccalaureate and Commencement for Hope College's Class of 2023 are scheduled for Sunday, May 7. Commencement will take place at 3 p.m. at Ray and Sue Smith Stadium, and Baccalaureate at 9:30 a.m. and 11:30 a.m. in Dimnent Memorial Chapel.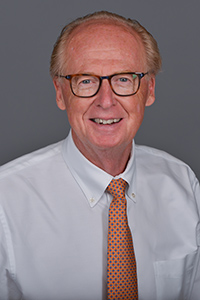 The Commencement speaker will be Dr. Richard Frost, who retired from Hope in 2022 as vice president for student development and dean of students after serving at the college since 1989. The Baccalaureate speaker will be Dr. Stephen Hemenway, who is the Betty Roelofs '53 Miller Professor of English and will be retiring at the end of the school year after serving at Hope since 1972.
Frost joined the Hope staff as dean of students, and in 1997 was additionally named vice president for student development. In his role, he mentored and guided the student body and oversaw student development services on campus, including the Center for Diversity and Inclusion, Counseling and Psychological Services, Dining Services, the Health Center, Residential Life and Housing, Student Life and Volunteer Services.
He retired as the longest-serving dean of students (or the comparable position, as professional titles have evolved across time) in the history of the college. Out of the college's nearly 37,000-plus alumni, more than 23,000 graduated during his time at Hope.
Among the numerous honors received by individual programs and staff in Student Development across his 33 years at the college, Hope was one of only 115 colleges and universities across the country named to the Carnegie Foundation for the Advancement of Teaching's "2010 Community Engagement Classification."
He guided development of the vision for the 42,000-square-foot Jim and Martie Bultman Student Center that opened in August 2017. The LEED Gold-certified building prominently features a campus "family room" looking out on the iconic Pine Grove in the center of campus in addition to gathering spaces for students and events, a chapel, the Kletz Market café, office space and a connecting link blending the building with the existing DeWitt Student and Cultural Center.
During last year's Commencement ceremony, on May 8, 2022, Hope presented him with an honorary Doctor of Arts (D.A.) degree for his many years of dedication to the holistic development of college students. On April 21, 2022, also in recognition of his service and impact, Frost was invited to deliver the address "Lessons That I have Learned" through the Last Lecture Series organized by the college's chapter of Mortar Board, an event co-sponsored by Hope's Student Congress.
Prior to coming to Hope, Frost was associate director of housing and residential services at the University of California-Santa Barbara. He had previously served as resident director at both the University of California, Davis and Michigan State University; directed the multi-ethnic program at the University of California, Davis; worked in the Student Development Office at Michigan State University; and served as an admissions counselor at Luther College in Decorah, Iowa. He earned a bachelor's degree in 1973 from Luther College, where he majored in political science and business administration; and his master's degree in 1977 and doctorate in 1989 — both in higher education administration — from Michigan State University.
Hemenway is one of only two currently serving faculty with tenures exceeding 50 years — Dr. David Myers of the psychology faculty has been at the college since 1967. The only other faculty two have served as long are Bruce McCombs, professor of art, who retired in 2021 after 52 years on the faculty; and John B. Nykerk, who taught at the college's Holland Academy and then Hope itself for 51 years, from 1885 to 1936.
In addition to teaching in the Department of English, Hemenway has directed the college's Vienna Summer School since 1976, succeeding program founder Dr. Paul G. Fried of the history faculty. More than 2,600 students have participated in the Vienna Summer School under his tutelage, and 2023 will be his 48th year in a row in charge of this 67-year-old international program.
For his work with the Vienna Summer School, he received the Knight's Cross First Class, Order of Merit of the Republic of Austria in 1991. The college named the Fried-Hemenway Auditorium in the Martha Miller Center for Global Communication in 2005 in honor of the two professors' long-time leadership of the program. His publications include the books "Hope Beyond Borders: The Life and Letters of Paul Fried," published by the college's Van Raalte Press in 2014, with a second edition in 2022; and "The Anglo-Indian Novel" and "The Indo-Anglian Novel, published by Writers Workshop in Calcutta in 1975 and 1976, respectively.
An acclaimed teacher, Hemenway was named Michigan's Professor of the Year by the Council for Advancement and Support of Education in 1992. He received the Hope Outstanding Professor Educator (H.O.P.E.) Award from the graduating senior class in 1977, and in 1999 received the college's first Vanderbush-Weller Award for extraordinary contributions to students' lives. He delivered Hope's Commencement address in 1981, and co-delivered the Opening Convocation address with departmental colleague Dr. Jennifer Young in 2004. He was appointed the inaugural recipient of the college's Betty Roelofs '53 Miller Endowed Professorship in 2019.
Hemenway has taught an Expository Writing I course called "Crime and Punishment" for 51 years, and has also taught many survey courses of: Western World Literature 1 and 2, Early British Literature, Modern British Literature, Modern American Literature, Modern Drama, Catholic Fiction, African-American Literature, Literature of India and Global Race Matters. He has taught upper-level courses on the writings of James Joyce, George Bernard Shaw, Ernest Hemingway and the Beatnik Generation. He has conducted distinctive Senior Seminar courses on campus and in Vienna and directed many independent studies. In the field of creative writing, he has taught courses in satire and creative nonfiction.
Before coming to Hope, he taught for one year at St. Mary's College in Above Rocks, Jamaica, West Indies, for the Jesuit Mission Program, and for one year as a Fulbright teacher at Panjab University, Chandigarh, India.
Hemenway graduated from College of the Holy Cross with a Bachelor of Arts degree in English in 1964. He completed his Master of Arts degree in English at Boston College in 1967, and Ph.D. in English at the University of Illinois at Urbana-Champaign in 1972.
In the event of rain, Commencement will be held at the Richard and Helen DeVos Fieldhouse. Admission to Baccalaureate, and Commencement if indoors, is by ticket only.