The Big Read Holland Area creates and fosters a culture where reading matters.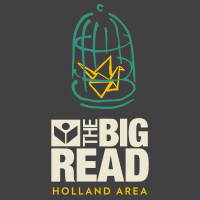 We bring our community together around one book and use this shared experience of reading, discussing and exploring the themes of the book as a springboard to learn from and listen to each other.
This month-long community-wide reading program takes place every November.
Register for events!
Most of our events do not require registration — but these do! Sign up using the links below. View a full list of all Big Read events on our calendar.
2017 Book
"When the Emperor Was Divine" follows one Japanese family uprooted from its Berkeley home after the start of World War II. After being delivered to a racetrack in Utah, they are forcibly relocated to an internment camp. They spend two harrowing years there before returning to a home far less welcoming than it was before the war. Using five distinct but intertwined perspectives, Otsuka's graceful prose evokes the family's range of responses to internment. Culminating in a final brief and bitter chapter, Otsuka's novel serves as a requiem for moral and civic decency in times of strife and fragmentation.
Our programming draws diverse participation within our community, generating conversations and discussion groups across generational, cultural, racial and socioeconomic divides and experiences. These events take place in a variety of spaces and locations. We also work with area middle and high schools to engage area students in the larger conversations of our community.
Our main events are planned to approach a book and its topics from a variety of perspectives, experiences and angles, organizing events that include interesting lectures by great speakers as well as using film, food, music and art to explore and celebrate the topics under discussion.
The Big Read Holland Area is a collaborative effort with support from many community partners.
Previous books
2016 – Brother, I'm Dying

In 2016, we took on the challenge of memoir with a wonderful yet different life story of Edwidge Danticat entitled, Brother, I'm Dying. Our programming included an author visit, a Haitian food event, Haitian drumming and dancing, a documentary, lectures on immigration in our community, and a student exhibition of learning that featured the artwork of 800 middle, high school and college students who created art in response to the book. Our community impact was 10,000 participants.

2015 – The Things They Carried

In our second year, we read, Tim O'Brien's The Things They Carried. More than 7,000 people attended 10 main events and took part in 49 public and private book discussion groups. We increased our school participation to 10 schools and 16 teachers, and we enjoyed the author as a guest speaker for a student event and for a standing-room-only event for the general public.

2014 – To Kill a Mockingbird
Want to Volunteer?

Contribute to the Big Read Holland Area
Fill out this form to donate online today.
The Big Read - Holland Area
Van Zoeren Hall41 Graves PlaceRoom 288Holland, MI 49423
workP. 616-395-7740
thebigread@hope.edu