Knickerbocker Theatre
Building Information
Phone Number616.395.7222
86 East 8th Street
Holland
,
MI
49423-3504
The Knickerbocker Theatre — knickerbocker translates into 'best of life' — was acquired by Hope College in 1988. Built in 1911, the theater catered to a wide variety of shows, from vaudeville acts to rock concerts, for the Holland public.
The 536-seat theater switched ownership numerous times since its creation and is currently being used by the College as an added dimension to classes.
The Knickerbocker offers a wide range of cultural offerings like lectures, art films, concerts, musical and stage performances for the college body and Holland community alike. The theater is located at on Eighth St., in the heart of Holland's downtown.
Fun Facts
While serving as Secretary of the Navy, Franklin D. Roosevelt gave a speech at the theater
TEDx Macatawa has been held at the Knickerbocker several times
Tragedy struck on opening day of the theater in 1911 when co-owner, Tierman Slagh, was killed while hanging the large electronic sign outside; the Knickerbocker Theatre remained closed until new management took over later that year
See what's coming soon to the KnickerbockerRead the full history of the Knick from the Joint Archives
Hope in Indianapolis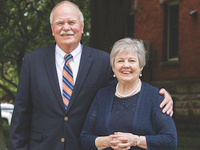 Gather with alumni, families and friends of Hope as you enjoy a strolling dinner and hear from President Dennis Voskuil.
Hope in Indianapolis
Date

Cost

$20

Location

Bridgewater Club
Hope in Indianapolis
5:30 pm - Bridgewater Club