Hope alumni know that their relationships with the college and with each other do not end at graduation.
Alumni have proven generous with their time and advice to students and fellow graduates. Through lifelong learning and career development, relationships formed at Hope change lives both on campus and in communities everywhere. Tapping into the potential of this network is a powerful way to bring your career to life.
When you graduate with a Hope degree or complete at least 45 credits, you are officially a member of the Alumni Association. It's free and an automatic part of your lifelong relationship with Hope. As a member, the college and alumni volunteers will work hard to keep you in touch with your inner Dutch through events, affinity connections and career resources.
You can stay connected and be an active member by updating your information, making plans to connect at a Hope event, referring a student and exploring ways you can get involved.
Annual Graduate Survey

Learn how Hope's Young Alumni make a difference.
Alumni and Family Engagement
DeWitt Student Cultural Center141 East 12th StreetFloor 2Holland, MI 49423
workP. 616-395-7250
alumni@hope.edu
Hope Alumni on Twitter@hopealumni
Check out "Hybrid Creatures," a collection composed of four stories that are each narrated partly in an artificial language: HTML, music dynamics, math notations, and formal logic written by Matthew Baker '08 @mwektaehtabr amazon.com/Hybrid-Creatur…
Alumni News
Hope in Top 25 for Number of Peace Corps Volunteers

Hope College is in the top 25 nationally among small colleges and universities producing Peace Corps Volunteers in 2017.

Hope in Top 25 for Number of Peace Corps Volunteers

The odd-year class of 2021 won the 83nd annual Nykerk Cup competition on Saturday, Oct. 29, 2017. The event, one of a variety of activities scheduled during the college's Family Weekend, featured more than 200 members of the freshman and sophomore classes competing in song, plays and oration.

Nykerk 2017 Photos

Hope College celebrated Homecoming Weekend on Friday-Sunday, Oct. 13-15. The weekend will include a variety of academic and arts events, athletic contests, a 5K run, a family-friendly cookout, the dedication of the Leona M. and Jacob E. Nyenhuis Sculpture Garden and activities ranging from a "Homecoming on 8th Street" event, to the 25-year reunion for the Class of 1992, to multiple affinity gatherings.

Homecoming 2017 Photos
Living and Working In : West Michigan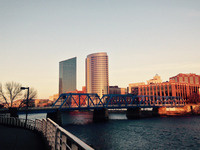 Alumni are invited to take part in a career networking event on March 6 at Founders Brewing Company.
Living and Working In : West Michigan
Date

Location

Founders Brewing Company
Living and Working In : West Michigan
6:00 pm - Founders Brewing Company
Hope in Indianapolis
Gather with alumni, families and friends of Hope as you enjoy a strolling dinner and hear from President Dennis Voskuil.
Hope in Indianapolis
Date

Cost

$20

Location

Bridgewater Club
Hope in Indianapolis
5:30 pm - Bridgewater Club